Now Streaming: Netflix Instant Alternatives To Sin City 2, If I Stay, And As Above So Below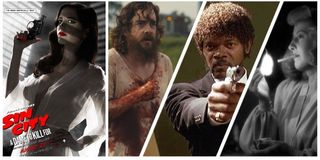 With so many titles to choose from, Netflix Instant's library can be overwhelming. So we bring you this biweekly column as a tool to cut through the clutter by highlighting some now streaming titles that pair well with the latest theatrical releases.
Looking to Sin City: A Dame To Kill For, If I Stay and As Above So Below for inspiration, we've pulled together a selection of killer crime dramas, tender tearjerkers, and horror stories about the dangers of curiosity.
Sin City: A Dame To Kill For
Frank Miller and Robert Rodriguez reteam to bring to life a new crop of neo-noir tales that traffic in sex, murder, and mayhem. Mickey Rourke, Jessica Alba, Josh Brolin, Joseph Gordon-Levitt and Eva Green co-star. Read our review here.
For more inventive takes on the crime-drama genre, check out this trio that boasts a murderous drifter, a landmark femme fatale, and an iconic pair of hitmen.
Blue Ruin (2013) A loner who abandons a life of quiet solitude when news from his past forces him back to his hometown in search of vengeance. Find out why this indie has been winning wild praise from critics. Macon Blair and Devin Ratray co-star; Jeremy Saulnier directs.
Pulp Fiction (1994) For more vignettes that ooze with lust, blood and greed, check out Quentin Tarantino's breakthrough anthology that unfurls stories of a boxer and his baby mama, two hit men with discerning burger tastes, a gangster's drug-fueled wife, and a duo of diner bandits. John Travolta, Uma Thurman, Samuel L. Jackson, and Bruce Willis star.
Double Indemnity (1944) Before Eva Green, there was Barbara Stanwyck, the sultry and deceitful femme fatale at the center of this classic noir. Fred MacMurray stars as an insurance rep whose sucked into a murder plot when he crosses paths with a gorgeous damsel in distress. Edward G. Robinson co-stars; Billy Wilder directs.
If I Stay
In this adaptation of Gayle Forman's YA novel, Chloe Moretz stars as Mia Hall, a talented teen cellist who must make a life or death decision after a gruesome car accident throws her whole life into spin. Mireille Enos, Jamie Blackley, and Joshua Leonard co-star; R.J. Cutler directs. Read our review here.
Following the tale of a heartbroken girl in a coma, If I Stay guns hard for the title of tearjerker. To revel in that release that only a good cry can give, check out these three films that serve up tales of mother-daughter devotion, lost souls, and star-crossed lovers.
Steel Magnolias (1989) Based on the Robert Harling play, this beloved drama focuses on a group of proud Southern women as they deal with heartbreak, health issues, wedding bells, and new babies. Totally quotable, this contemporary classic also boasts performances from such celebrated stars as Shirley MacLaine, Olympia Dukakis, Sally Field, Julia Roberts, Dolly Parton, and Daryl Hannah. Herbert Ross directs.
Romeo & Juliet (2013) The William Shakespeare classic gets a fresh re-invention at the hands of Downton Abbey creator Julian Fellowes. Hailee Steinfeld and Douglas Booth play young lovers Juliet and Romeo, who fall in love despite the furious feud that wages between their families. After being married in secret, the teen newlyweds hope for a happy ending, but it's a wish that won't be granted. Carlo Carlei directs.
Short Term 12 (2013) This little indie that could was among the most critically heralded last year, in large part because of the incredible lead performance of Brie Larson. Set in a residential treatment facility for kids in need of a home, this compelling drama follows the journey of its supervisor (Larson), who must confront her own past once she meets a volatile new kid. While this one takes some dark turns, it's ultimately uplifting and inspirational. Frantz Turner and John Gallagher Jr.; Destin Daniel Cretton directs.
As Above, So Below
Set in the city of Paris, this horror-thriller focuses on a pack of explorers who dare to venture into the City of Lights' subterranean catacombs. But what they find there is the stuff of nightmares. Perdita Weeks, Ben Feldman, Edwin Hodge, and François Civil co-star; John Erick Dowdle directs. Read our review here.
A common horror story theme is that curiosity killed the cat. For more freaky thrillers that delve into this maxim try this trio that includes perilous pits, magical mean girls, and a terrifying true mystery.
The Hole (2009) Being the new kids in town can be rough. But two brothers find an unexpected issue with their new home when they uncover a bottomless hole that plays on their fears. Who says terror isn't for kids? Chris Massoglia, Haley Bennett, and Nathan Gamble co-star; Joe Dante directs.
The Craft (1996) Tired of being bullied at school and ignored by boys, four teen girls vie for power via witchcraft. But what begins as thrilling spells soon escalates to something dangerous. Robin Tunney, Fairuza Balk, Neve Campbell, and Rachel True star; Andrew Fleming directs.
Devil's Pass (2013) Inspired by the Dyatlov Pass Incident, this mystery follows a batch of intrepid amateur investigators into Russia's Ural Mountains where decades before a professional mountaineering team died from inexplicable causes. The seek to solve this mystery of history, but could they be fated to repeat it? Holly Goss, Matt Stokoe, Luke Albright, and Ryan Hawley co-star; Renny Harlin directs.
For even more selections, check our last Now Streaming.
Staff writer at CinemaBlend.
Your Daily Blend of Entertainment News
Thank you for signing up to CinemaBlend. You will receive a verification email shortly.
There was a problem. Please refresh the page and try again.