Now They're Remaking Don't Tell Mom The Babysitter's Dead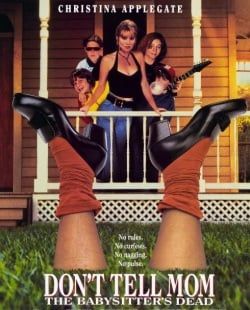 Following the massive success of The Karate Kid and the somewhat middling success of The A-Team over the weekend, the 80s are so very much back that I fear I'm living in a time warp and may soon start disappearing like Marty McFly onstage at the Enchantment Under the Sea dance. Everything from the 80s that's even remotely fondly remembered is fair game now, and with a 21 Jump Street adaptation and new Predators movie coming soon, we won't even have to wait for The Karate Kid 2 to keep the trend alive.
And as Pajiba is reporting, the early 90s are fair game as well Producer Mark Gordon has apparently grabbed the rights to Don't Tell Mom The Babysitter's Dead, the pretty self-explanatory family comedy about a group of kids (led by teen sister Christina Applegate) forced to care for themselves for the summer when the babysitter croaks. The 1991 film boasted an early career performance by David Duchovny and a Married With Children-era Applegate doing her comic best, but wasn't exactly an iconic classic-- I was basically in the film's exact target audience and I barely remember it.
The project is currently out to writers, and given how timeless the story is it probably wouldn't be that hard to update it for a modern audience. You may find yourself OK with this reboot, but be careful-- it's a slippery slope, and as this leads closer to the inevitable Back to the Future remake, you need to prepare yourself for the worst.
Your Daily Blend of Entertainment News
Staff Writer at CinemaBlend