Odysseus Gets His Own Movie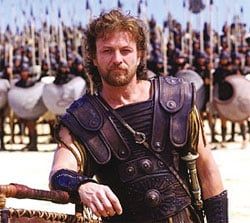 I'm not sure where this sudden interest in turning ancient mythology into feature films came from. You'd think Troy would have pretty much put the kybosh on that for at least another decade. For whatever reason, mining the world of Medusa for Hollywood movies seems to be the next big thing, whether it it's a Clash of the Titans remake, or bits and pieces lifted from the "Iliad". Personally I'm still holding out for a live action 7th Voyage of Sinbad which totally rapes my memory of how awesome it was. No not really, I'd probably have more fun just popping in the original.
Of the possible mythology projects in the cooker, it looks like Odysseus will be one of the first to move past the seven-headed hydra guarding development hell and into actual production. Variety says Warner Bros. has hired Jonathan Liebesman to direct it, based on a spec script by Ann Peacock, who probably gets asked all of the time if she likes Clue.
Ms. Peacock's script is about a Greek hero and Ithacan King named Odysseus, who returns to his island after being played by Sean Bean in the Trojan wars, only to discover that a bunch of major assholes have set up shop in his castle. That part of Ody's story was originally contained in Homer's "The Odyssey" and somewhat oddly, it's also the least interesting part of "The Odyssey". Generally people go for the bits with the Cyclops and the pirates and things, but I guess that's what you should expect in an epic fantasy script written by the co-writer of Nights in Rodanthe.
Your Daily Blend of Entertainment News