The One Rule Quentin Tarantino Has On Every Film Set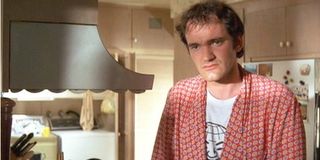 It's safe to assume that Quentin Tarantino is quite a stickler on set. Sure, he certainly allows creative freedom to run wild so that his actors and crew can reach their zenith, but all of this must still be done in a forthright and professional manner. Which is why I think we can all get on board with a certain on-set rule QT insists everyone involved in his productions must follow: no mobile phones.
Christoph Waltz revealed to Playboy (opens in new tab) that Quentin Tarantino is adamant no one brings their mobile phones on set with them. Waltz, who is currently doing the rounds promoting his turn in Spectre, admitted that Tarantino is very strict with this policy, leaving very little leeway for his cast and crew. Waltz explained:
It's totally understandable why Christoph Waltz supports Quentin Tarantino in this pursuit. In fact, because of the boost that Tarantino brought to Waltz's career, you'd imagine that the German-Austrian actor would do pretty much anything that the director asks of him.
Despite being a prolific actor on Austrian and German television for several decades, Waltz shot to fame with his role as Hans Landa, a.k.a. The Jew Hunter, in Inglorious Basterds. Tarantino originally believed that with the multi-lingual, conniving, but courteous character he had written a role that was unplayable.
However, then Waltz came along and the actor brought Landa to life in a scintillating fashion, earning an Academy Award for Best Supporting Actor for his troubles. This was a feat he repeated with Django Unchained, another Tarantino effort, and since the Pulp Fiction, Reservoir Dogs, and Jackie Brown filmmaker brought Waltz into the public eye he hasn't looked back.
Thanks to this success, Waltz now finds himself starring opposite Daniel Craig in Spectre, the twenty-fourth edition to the James Bond franchise. And he looks just as deliciously evil as under Quentin Tarantino's direction.
Spectre finally hits U.S. cinemas on November 6, a full week after it has been out in the U.K. Meanwhile, Christoph Waltz is already looking to the next stage of his career, as he has just signed up to make his directorial debut with The Worst Marriage In Georgetown.
Your Daily Blend of Entertainment News
Thank you for signing up to CinemaBlend. You will receive a verification email shortly.
There was a problem. Please refresh the page and try again.