The One Thing Julia Roberts Hated About Making Her New Movie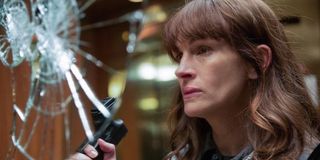 This weekend movie fans will get the opportunity to see Julia Roberts in a way that we haven't seen her many times before, playing a vengeful mother and FBI agent in the American remake of Secret in Their Eyes. Not the normal type of role America's sweetheart is prone to playing, it also required one thing of the Pretty Woman star that she wasn't entirely comfortable with, she had to carry a gun.
Though the 48-year-old actress referred to the change of pace role as "refreshing" in an interview with In Style, in their conversation about the film, she also revealed that packing heat was not something she is overly fond of. She said:
While Roberts views her character, FBI Agent Jess, as a mother, someone who puts family first above all else, which is something that drew her to the role, there are obviously elements that took her out of her comfort zone. She did say, however, that this presented an additional challenge, and gave her something more to work on with the role and the character.
Directed by Billy Ray (most known as a screenwriter of movies like Captain Phillips and The Hunger Games, though he also helmed Shattered Glass), Secret in Their Eyes follows a tight knit group of investigators, Jess and her partner, Ray (Chiwetel Ejiofor), along with their District Attorney supervisor Claire (Nicole Kidman). They're torn apart when Jess' teenage daughter is brutally murdered for no apparent reason. 13 years later, Ray discovers a new lead that could solve the case, but Jess some ideas of her own. Check out the trailer below.
With a great cast like this, you'd think the studio would want to flaunt Secret in Their Eyes, but it almost seems like they're burying it. It didn't start screening for press until very recently, and there are almost no reviews out there yet — and it didn't make a stop at any of the prestigious fall film festivals like many other entries.
Even though a November 20 release seems like prime real estate, it also opens the same day as The Hunger Games: Mockingjay—Part 2, which is going to own the box office landscape probably until Star Wars: The Force Awakens. I can't decide if I think this move is intended to hide the movie or if it's supposed to be counter programming — like maybe adults will go see this while the kids go watch Katniss incite a revolution. However this shakes out, we've only got a couple of days before we find out.
Your Daily Blend of Entertainment News