Oprah Winfrey To Play Lady Pimp In Richard Pryor Biopic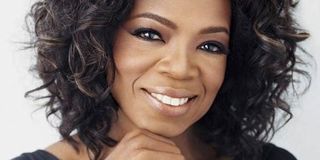 Media mogul Oprah Winfrey has been spending more time on the big screen lately, with roles in such high-prestige pics like Lee Daniels' The Butler and the upcoming Civil Rights docudrama Selma. But for her next film, she's going downright gritty.
TMZ reports Oprah Winfrey has been cast to play a brothel-running madam in the biopic about the late Richard Pryor. But this is no common lady pimp role. Winfrey is set to portray a very pivotal figure in the young Pryor's life. That would be none other than the iconic and crass comedian's grandmother, Marie Carter. After Pryor's mother abandoned him at the age of ten, the boy went to live with his father's mother in Peoria, Illinois. There, little Pryor grew up in a brothel.
Let's take a moment to let that settle in...Okay?
Pryor's widow Jennifer Lee told TMZ that Oprah Winfrey has been eager to secure the role of Marie Carter, who is described as "cruel and abusive," since she first saw the script. As Winfrey is also producing the currently untitled Richard Pryor biopic, you'd think this would be an easy part to land, especially as the drama is being helmed by her friend and former collaborator Lee Daniels.
Nonetheless, it's rumored that Winfrey is hoping this dark turn will earn her some much desired acting acclaim. Sure, she was nominated for an Academy Award back in 1986 for The Colored Purple. But that was nearly 30 years ago! There are Academy members who weren't even alive then! (Though not many. The group is still predominantly older folks.) Winfrey may be gunning hard for a win. And remember, playing a malevolent mother figure has worked well in the past. Consider Cate Blanchett in Blue Jasmine, Shirley MacLaine in Terms of Endearment or Mo'Nique in Lee Daniels' Precious.
Casting the lead in this Richard Pryor biopic has been a bit of a headache for its filmmakers. It seemed certain "It Guy" Michael B. Jordan would be taking it on. Then Nick Cannon and Marlon Wayans were considered contenders. But the coveted role of the outlandish comedian has gone to fellow stand-up Mike Epps. Best known for appearances in The Hangover and Next Friday, Epps has some serious turns coming up, including a supporting role in the Vince Vaughn crime-drama Term Life. But playing Pryor could prove a make-or-break moment for the entertainer.
It's currently unclear when the untitled Richard Pryor biopic will roll into production. But whenever it does, Epps will be ready, having already played Pryor in a previous pic. See, he recently wrapped on Nina, a Nina Simone biopic fronted by Zoe Saldana that proved his first chance to step into Pryor's shoes. Basically, Oprah couldn't ask for a better scene partner.
Your Daily Blend of Entertainment News
Staff writer at CinemaBlend.