Oregon Man Goes On Hunt To Retrieve Rare Reese Witherspoon Movie Memorabilia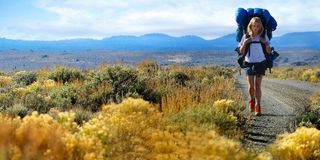 You can't help but get a silly, sudden little rush whenever you recognise a location in a film. Most of us either instantly move on or annoyingly prod our pals and inform them that we've been there. While watching Wild, Oregon's very own Chris Kesting decided to put his knowledge of the region to the test, and set off on a journey that eventually saw him claim Reese Witherspoon's discarded boot.
In the film's opening scene, Witherspoon's Cheryl Strayed throws a boot over the edge of a cliff because they were too small and left her toes a mangled, bruised, and bloody mess. Rather than being instantly drawn into Witherspoon's fragile, yet resolute portrayal, Keating couldn't get over the fact that he knew exactly where that scene was filmed. He explained to Oregon Live that he knew the scene had been filmed near Mt. Hood Skibowl, on south side of Mount Hood near Government Camp because he had been in the area recently.
The avid hiker and mechanical engineer from Camas, Washington then started to devise an ingenious venture of his own, one that would ultimately conclude with him holding a piece of Reese Witherspoon movie memorabilia.
On March 8, Keating and his chum Tim Pate decided to venture to the spot near where filming happened and began the potentially long and arduous search for the tiny little boot amidst the gorges, shrubbery, mud, and water that occupy the mountain side. It could have taken hours, even days, or, heaven forbid, months for the pair to get their hands on the shoe. But in the end it just took 15 minutes.
Keating admitted that the red laces made the boot stand out. Now all of you sceptics out there are probably already questioning whether it's actually Witherspoon's boot at all, and you have ever right to. But if you're actually thinking that way, you're wrong. Not only was it a size 6 ½ woman's Danner boot that was made in Portland and looks exactly like the boot from Wild's poster, but Cheryl Strayed took to her Facebook page to confirm that it is actually the boot.
Let's just be grateful that things ended in a more positive light for Keating than they did for Fargo fanatic Takako Konishi, who, legend has it, actually travelled to Fargo, North Dakota in the early 2000s and died trying to locate the missing money Steve Buscemi's Carl Showalter hid in the snow towards the end of the film because she'd believed the Coen Bros. assertion that the film was based on a true story.
Your Daily Blend of Entertainment News