Oscar Eye: Wolf Of Wall Street Is In, Monuments Men Is Out, And Other Shakeups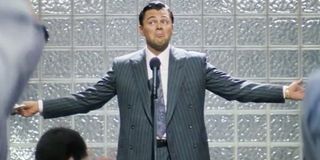 It's been a while since we last checked in on Oscar season, and a lot has changed in the last few weeks. Let's run this down film-by-film for the sake of sanity.
The Monuments Men. Directed by George Clooney and featuring a massive all-star cast, it looked like a possible shoo-in for Best Picture… until it got pushed out of 2013 entirely last week. It's now getting when even Clooney calls the "Shutter Island spot," an early February release date that worked wonders for Martin Scorsese's thriller when it opened in 2010. That early date may mean it's not an awards contender for 2014 either, but at the very least we have a few more months before we have to worry about that.
The Wolf of Wall Street. Speaking of Scorsese, his newest film was looking like a question mark when rumors emerged that he couldn't finish the film in time for its intended November release date. Somehow strings were pulled, arrangements were made, and the film has been delayed only until Christmas, which keeps Scorsese, Leonardo DiCaprio and the rest of the film squarely in the middle of the Oscar race. Because nobody has yet seen it, though, it's still hard to know just how big a player it may be.
Saving Mr. Banks. And speaking of Christmas Day, Disney's big planned holiday release debuted at the London International Film Festival last weekend to some mixed but largely positive reviews; Guy Lodge called it bright and entertaining and praised Emma Thompson's lead performance as Mary Poppins author P.L. Travers, while Variety said right up front that this "mash note to the magic of movies" ought to be irresistible to awards voters. The film premieres for a wider industry audiences at the AFI Festival in Los Angeles, which should give us a better sense of just how formidable a contender it will be.
The Counselor. It always seemed like a long-shot given the utter lack of promotion, but when Ridley Scott's The Counselor opened to dismal reviews and even worse box office, it knocked itself fully out of the awards race. Bummer-- I was still hoping Cameron Diaz might be able to knock the Supporting Actress on its ear with an out-there performance as a crazy cheetah lady villain.
Blue is the Warmest Color. The acclaimed and controversial Cannes champion also premiered last weekend, to a vastly different fate than The Counselor, earning more positive reviews and even more fervent discussion of the performances from Adele Exarchopoulos and Lea Seydoux, who will be competing as Best Actress and Best Supporting Actress, respectively. Attention for a foreign language performance is always tricky but Oscar has been exceptionally friendly to France lately, thanks to winners like Jean Dujardin and Marion Cotillard and nominees like Emmanuelle Riva and Berenice Bejo. And with the war still raging between the actresses and the film's director, it ought to at least be an entertaining entry in this year's contest.
12 Years A Slave. It's open now in limited release, it's still getting ecstatic reviews, and it led the pack of Gotham Award nominees last week, a small but possibly telling indication of how popular it will be throughout the season. Even riding on an enormous wave of hype to its release it has yet to stumble as the presumed Best Picture frontrunner, and now the question is how it can sustain that prestige through many, many long months ahead.
Gravity. Though it was finally knocked out of the #1 box office spot by Jackass Presents: Bad Grandpa, of all things, it's undeniably the hit of the fall and already the 9th-biggest movie of 2013. Its status as a Best Picture nominee is essentially guaranteed at this point, but we have to see how complaints about its flimsy screenplay, and its one-woman show status, might impact it as the season moves along.
All Is Lost. A partner with Gravity and Captain Phillips in the survivalist theme of this year's awards race, the Robert Redford-starrer is not doing particularly well in limited release, with just a $6,000 per-theater average from 81 screens last weekend (that's just over a third of what 12 Years A Slave is doing on 123 screens). Some thought Redford was a potential Best Actor winner, but can he now compete with Tom Hanks, another veteran surviving against all odds in the much more successful Captain Phillips?
Lee Daniels' The Butler. Completely absent from the Gotham Awards lineup even though it would have been eligible. Is it just an oversight from a relatively small committee, or a sign that the summer sleeper hit is fading away?
And now on to the charts, where logic dictates that it's finally time to declare a few locks. OK, it's mostly box office determining this-- but that counts for a surprising amount every Oscar year.
Swipe to scroll horizontally
Congratulations, Gravity-- you're the first mortal lock of this year's Oscar season, with that unbeatable combination of rave reviews, huge box office and star power. Curiously enough, it's far from a lock to win, both thanks to general Academy sci-fi mentioned and the frequently cited weaknesses in its script. But it's impossible to imagine the Academy not wanting to honor this massive technical and populist achievement. Right behind it is 12 Years A Slave, which probably ought to be a lock thanks to the Academy's proven willingness to go a little intellectual lately (Amour, No Country For Old Men, The Hurt Locker-- the list goes on). Maybe next week I'll man up and do it. Elsewhere Monuments Men, The Fifth Estate and The Counselor have all been removed for reasons discussed above, and Nebraska has been bumped up to Still in the Running, given the buzz that's increased around it since its NYFF premiere.
Swipe to scroll horizontally
As goes Gravity's mortal lock status, so goes Alfonso Cuaron's, since his technical accomplishment is a huge part of what makes the film so great (and Ang Lee won Best Director for a similar level of commitment and skill for Life of Pi last year). Both Greengrass and McQueen remain hugely likely to join him, but I hesitate for various reasons-- Greengrass because Captain Phillips isn't yet a proven zeitgeist hit like Gravity, and McQueen for being generally averse to Oscar schmoozing. But I have an extremely hard time imagining them left out of the final 5 either way. I've knocked Clooney (for Monuments Men) out of the group, along with Ron Howard and Denis Villeneuve-- as much as their films might have potential as wild card Best Picture options, they won't find room in this hyper-crowded Best Director field.
Swipe to scroll horizontally
Still no mortal locks since it's hard to know which of the top five is the most guaranteed, and which might be the most vulnerable to someone from the lower categories jumping up. Removing Clooney from Monuments Men helps a bit, but not nearly enough.
Swipe to scroll horizontally
Go for it, Sandra Bullock-- you've had a great 2013 and you've earned that mortal lock status. The question of who will be joining you, though, continues to look fuzzy, except for Cate Blanchett who is a very likely nominee. I've bumped down Kate Winslet, since Labor Day was wanly received at festivals and hasn't made much of a peep since, and bumped up Exarchopoulos thanks to all the talk about Blue mentioned above. With Bullock and Blanchett both recent Oscar winners, there's a lot of room for upsets here.
Swipe to scroll horizontally
Dallas Buyers' Club opens on Friday, which ought to give another boost to Jared Leto's campaign in this category, and Fassbender continues to loom as the biggest contender (to me) in this category. But a lot of the potential spoilers remain unseen as American Hustle and The Wolf of Wall Street stay out of view. It felt good to pare things down by removing all those Monuments Men guys, though, and to get real about the chances for Jake Gyllenhaal-- Prisoners has a tiny awards season presence as it is, and not for him regardless.
Swipe to scroll horizontally
This category, as in so many years, continues to look sadly empty, though maybe that could mean some surprising attention for Sally Hawkins or maybe even Scarlett Johansson and that Her voice performance. There are still no locks, especially as The Butler continues to fade from view.
Your Daily Blend of Entertainment News
Staff Writer at CinemaBlend
Your Daily Blend of Entertainment News
Thank you for signing up to CinemaBlend. You will receive a verification email shortly.
There was a problem. Please refresh the page and try again.