The Oscar Vine Of The Night Goes To These Dudes Not Clapping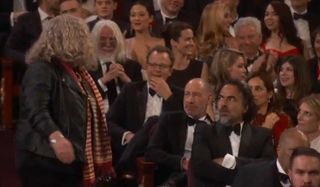 Over the last few years the internet has done a sensational job of scrutinizing every frame of awards ceremony coverage to find moments of those in attendance acting in a peculiar manner. The 88th Academy Awards were no different, with one particular Vine of a hoard of nominees not clapping for Mad Max: Fury Road's Jenny Beavan, as she walked towards stage to collect her award for costume design, soon trending. Want to check it out? Obviously you do. Then click below.
That collective sound that you can hear is the world chuckling at this bizarre spectacle. Especially since there are quite a few Oscar winners and nominees in this video, including Spotlight's Tom McCarthy and The Revenant's Alejandro Gonzalez Inarritu, who seem to refuse to acknowledge Jenny Beavan as she walks to the stage.
Alejandro Gonzalez Inarritu even seems to go one step further by firmly folding his arms in what could be interpreted as some sort of bizarre, even hostile protest against Mad Max: Fury Road's success. That's probably not the case though. In fact there is, hopefully, a rather reasonable explanation for the above.
Photo Credit: ABC/Image Group LA
It should be perfectly clear that Jenny Beavan was probably trekking from further back in the auditorium to the stage in order to get her Oscar. What likely transpired was that the likes of Tom McCarthy and Alejandro Gonzalez Inarritu did indeed clap and celebrate Beavan's success, only to have stopped by the time that she finally walked past them and onto the stage, where she then picked up her gong. We'll give them the benifit of the doubt.
However, as the below video proves, it really didn't actually take that long for Jenny Beavan to walk from her seat down to the stage. So the individuals that were caught out not clapping the Costume Designer on-screen as she strolled past really must have only briefly applauded once Cate Blanchett announced her name.
It's safe to say that Jenny Beavan probably won't be too concerned by this potential sleight from some of her fellow Oscar attendees though. After all, she has a brand new gold statue to hold and become accustomed with.
Your Daily Blend of Entertainment News