Oscars May Leave Out Best Original Song Performances At This Year's Ceremony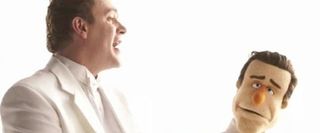 Due to the Academy's voting system for Oscar nominees, there are just two original songs nominated for Oscars this year. If seeing "Real in Rio" or "Man or Muppet" performed at the Oscars later this month was one of the things you were most anticipating, you may be in for a disappointment. Rumor has it, neither song will be performed at this year's ceremony.
In past years, the nominees for Best Original Song have been performed. In addition to presenting us with the nominated music, the performances also serve as an entertaining break from all of the statue-presenting and speeches. This year may have only seen two nominees, but both songs may have been especially entertaining to see performed live during the Oscars. Per Deadline, sources say the nominated songs won't be performed. The site says both Fox (for Rio) and Disney (for The Muppets) "formally protested the decision to skip but received turn-downs."
While Deadline doesn't name their sources, the site does speculate that the decision "sounds firm" and attributes it to the "telecast's pressure-cooker time constraints." While one source says, "The show is not locked yet," and that decisions are still being made, another "authoritative source" suggests that the information was leaked to try to influence the creative direction of the show...:
That above may be true (on both fronts). Still, if time is the issue, with just two songs nominated, it seems like there should be room for the performances, unless they have to block out more time than usual for advertising, the opening number or some other aspect of the show. Or maybe I'm just grasping at straws due to my disappointment in learning that we may not get to see Jason Segel and Walter (and possibly even Jim Parsons?) singing "Man or Muppet." Then again, I was on board with the idea of having the Muppets' host the whole thing, so the anticipation of a few minutes of Muppets already felt like a consolation prize by comparison to that probably-unlikely hosting scenario. Meanwhile, credited performers for "Real in Rio" are Jesse Eisenberg, Jamie Foxx, Anne Hathaway, George Lopez, and will.i.am, as well as "The Rio Singers." That also sounds like it could make for a really fun performance.
Whether this rumor turns out to be true remains to be seen. We may have to wait until February 26th to know for sure. Hopefully it hasn't been decided yet and they'll find a way to squeeze ten minutes (probably less) of extra entertainment into the three-hour broadcast. In the meantime, below are the two Best Original Song nominees.
"Man or Muppet"
"Real in Rio"