Owen Wilson Is Woody Allen's New Scarlett Johansson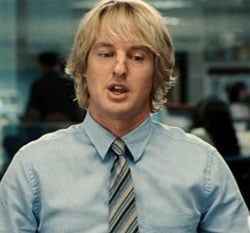 Owen Wilson may be slowly crawling his way back to respectability. He did a voice in the critically acclaimed Fantastic Mr. Fox, and now he's working for Woody Allen. Even when Woody's movies suck, you still get credit for working with Woody. Does that make Owen Allen's new muse? All we know right now is that THR says he's attached to star in the auteur's next project.
The movie, as Woody Allen's upcoming films so often don't, has no title. He's also not yet let leak even the barest hint of a plot synopsis. Right now all we know is that Owen's in it and that France's first lady, actress Carla Bruni-Sarkozy claims she's in it. That could mean he's shooting in France… or not.
I can tell you it's not the next Woody Allen movie you'll see on screen. That movie has a title and it's called You Will Meet a Tall Dark Stranger in which Josh Brolin, Anthony Hopkins, and Naomi Watts star. Owen on the other hand, has that sure to be horrible Marmaduke movie coming out. Maybe I spoke of respectability too soon. Anyone else miss the guy from Bottle Rocket?
Your Daily Blend of Entertainment News