Ozzy Osbourne Biopic On The Way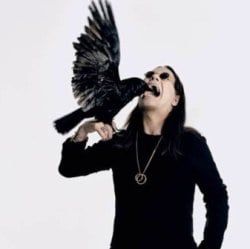 Sometimes the material just writes itself. So is the case with Ozzy Osbourne. Anyone who's ever seen The Osbournes knows even the best scribe would be hard pressed to come up with anything as ludicrous (or sad) as Ozzy shuffling around the house barely speaking English. Knowing that it took a lifetime of hardcore partying to create the veritable vegetable he is today makes the idea of an Osbourne biopic pretty damn intriguing. Digital Spy is reporting a production deal for a movie about Osbourne's life has been picked up and according to Sharon Osborne, "We have lot's of money and we're all starting."
When asked about possible casting, Osbourne hinted that a relative unknown would play Ozzy. This is a shame considering Russell Brand would have been an insane (if not too comical) Prince of Darkness. Regardless, whoever gets the chance to reenact Ozzy biting off the head of a bat, or even helping to bring demon seed Jack and Kelly into the world, will have big shoes to fill. As much as Osbourne's become more a cartoon character than rock legend, there's no denying his life before, during and after Black Sabbath could make for cinema gold. I just hope they don't make it too realistic because the whole thing will be in subtitles.
Your Daily Blend of Entertainment News
Doug began writing for CinemaBlend back when Terminator: The Sarah Connor Chronicles actually existed. Since then he's been writing This Rotten Week, predicting RottenTomatoes scores for movies you don't even remember for the better part of a decade. He can be found re-watching The Office for the infinity time.