Pacific Rim 2 Still Far Off According To Legendary Pictures Head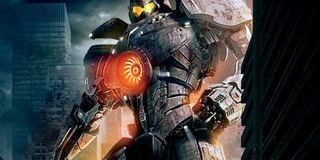 Crunch these numbers: $411 million on a $190 million budget. Those are the numbers that Pacific Rim racked up last summer, less than a quarter coming from America. With a healthy home video life, surely that's enough for a Pacific Rim 2, some argue. And with an undisclosed prints + advertising number jacking that budget up another $80-$100 million, others maintain that it just ain't happening. And now Legendary Pictures CEO Thomas Tull is here to put your dubious Pacific Rim 2 wishes in doubt.
In an interview with I Am Rogue, Godzilla producer Thomas Tull speaks of how relations are good with Pacific Rim director Guillermo Del Toro, but not so good that they're going to greenlight Pacific Rim 2 after an underwhelming Pacific Rim.
Boy, there's a whole lot of "don't call us, we'll call you" packed into this phrase. The fact is, you'd be an idiot to turn down a Pacific Rim 2 outright, because who in Hollywood doesn't want to be in bed (figuratively!) with Guillermo Del Toro? But the first one just didn't produce a Return On Investment that the studio would have liked. It's numbers, people. And sadly, given the way Hollywood works, when people are lukewarm over your last film and you're waiting to make a sequel, that wait just becomes procrastination.
Del Toro's currently working on Crimson Peak, after which he'll be leaping into producing a dark retelling of Pinocchio. He's also working behind the scenes on The Strain and his projects in development include his DC film Dark Universe, the low-budget Spanish film Saturn And The End Of Days and many, many more. If you don't nab Del Toro now, you're not going to get him ever, and if he's going to make another sequel, it seems likely that Hellboy 3 would be the likeliest.
Legendary is no longer developing projects with Warner Bros., moving on to Universal. That suggests that, in addition to a shift in partnership, there's a shift in company policies. Which could be minor or major, but would likely involve the idea of Pacific Rim 2, which would have to be made with former partners the WB. Adding the politics involved to what's already a movie the money-men might not want, and it seems likely Pacific Rim 2 is just a pipe dream for now.
Your Daily Blend of Entertainment News
Thank you for signing up to CinemaBlend. You will receive a verification email shortly.
There was a problem. Please refresh the page and try again.