Pacific Rim Sequel Looking Likely After Big China Opening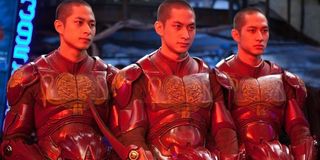 We told you earlier this week that all hopes for a Pacific Rim sequel rested on China, where the monsters vs. robots film was opening this week and could potentially make enough to push it into "worldwide hit" territory. Today the numbers are in, and it's good news for the jaegers-- Deadline reports that Pacific Rim made $9 million on its Wednesday opening alone, more than Warner Bros. has ever made from a single film on opening day. The film opened on 5700 screens, all of them in 3D, and was 23% bigger than even the final Harry Potter film-- very, very good news for these characters who didn't have a bestselling set of books to back them up.
To be fair, Hollywood is apparently still not getting their money from China, thanks to a dispute over a tax in that country, but it seems to benefit both sides enough to work that out and pass Warner Bros. their cash, at which point they may very well be inspired by green light the Pacific Rim sequel. The film's screenwriter Travis Beacham was hired to get started on the new film back in December, and he and director Guillermo del Toro have been open about their hopes to continue exploring this world, in which people have built giant robots to fight off the giant monsters emerging from an otherworldly portal in the sea. Without spoiling too much about Pacific Rim's outcome, there's still room for plenty of the original film's biggest stars to come back for another story, though it's unclear just how Beacham and del Toro will come up with another apocalypse to cancel.
Pacific Rim continues to roll along as a modest hit in the United States, hitting seventh place at last weekend's box office (its third week of release) but cruising slowly toward a possible $100 million gross here. Overseas it's a much rosier picture, and not just in China-- Pacific Rim has made $140 million worldwide already, and it hasn't even opened in major markets like Spain, Brazil and Japan (they invented giant monster movies, after all). China's $9 million ultimately isn't all that much compared to how much Pacific Rim cost, but it's a strong sign of interest from a country that Hollywood is courting at any cost. So monster movie fans, send your thank-you notes to Beijing when the Pacific Rim sequel gets going. And then maybe see if they can help us get around to the Godzilla mashup we're still hoping for.
Your Daily Blend of Entertainment News
Staff Writer at CinemaBlend