Pacific Rim SuperTicket Costs $20, Gets You Early Digital Download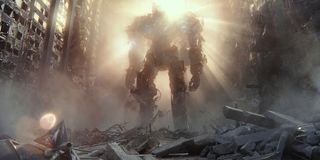 In New York City, a ticket to see a new movie in 3D IMAX will cost you about $20. In Canada, that kind of cash can get you a movie ticket and an early digital download. Even if you're not a hardened New Yorker who just accepts exorbitant movie ticket prices, that's a steal! According to Deadline, moviegoers who choose to see Pacific Rim at Cineplex Entertainment theaters in Canada will get both a ticket to the movie and a pre-order of the UltraViolet digital version, which will come out at an unknown date before the hard copy DVD and Blu-ray releases.
If you're getting a little bit of deja vu, this is somewhat similar to the deal Paramount was offering for World War Z, allowing moviegoers to pay $50 to see the film two days early, which also got them an early digital download, a pair of collector's 3D glasses, a poster and a small popcorn. Variety reported that four of the five theaters offering mega tickets were sold out, and estimating about 250 people per theater that netted around $60,000, significantly more than the approximately $15,000 it would have made off that number of people with just regular tickets. It's nothing compared to the big opening weekend that World War Z enjoyed, but it's proof that at least some people thought it was a deal.
When we wrote about the World War Z mega ticket we speculated that it might work better for a film that came in with automatic anticipation, something like The Avengers 2 or even an animated sequel like Despicable Me 2. It's interesting that the next film to try this out is, instead, another original property, Pacific Rim. Are enough people interested in seeing Guillermo del Toro's robots vs. monsters epic to want to own the digital download, before they even see it? We'll see if the studio or Cineplex Entertainment releases the stats to help us find out. In the meantime, check out the Pacific Rim trailer for yourself below to decide if you'd take the deal.
Staff Writer at CinemaBlend
Your Daily Blend of Entertainment News
Thank you for signing up to CinemaBlend. You will receive a verification email shortly.
There was a problem. Please refresh the page and try again.