Would You Pay $50 To See World War Z Early?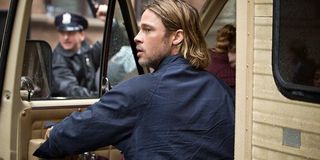 We report all the time on crazy ways that movie studios and other companies conspire to get you to pay extra money. There was the guy who paid $500 to see Identity Thief in the comfort of his own home. There was the aborted scheme to ask people to pay $60 to see Tower Heist on VOD just three weeks after its theatrical release. And of course, there's always the option to shell out $2 million to build an IMAX theater in your own home.
But what's much harder is finding ways to get people to pay more to see movies in theater, beyond the usual 3D and IMAX surcharges. That's where Paramount is stepping up to the plate for the release of this month's World War Z. Over at Fandango you have the option to buy a $50 "Mega Ticket"-- but only for theaters in Atlanta, Houston, Philadelphia, Los Angeles and San Diego. Here's what comes with that sky-high price tag:
-One (1) adult admission ticket to the 6/19 advance 3D show of World War Z
-One (1) HD digital copy of movie when available*
-One (1) pair of World War Z collector's custom 3D glasses**
-One (1) official limited-edition movie poster
-One (1) small popcorn
Since World War Z doesn't open until Friday, June 21, that's a two-day head start on the crowds for the really enthusiastic World War Z fans. What seems to be the real selling point, though, is the digital copy, which could be available sooner than the DVD street date and would provide what most of us really want when we go see a movie we like-- the ability to own the movie yourself as soon as possible. The tricky part, though, is launching something like this on a movie like World War Z, which isn't a sequel or based on anything most people have heard of, and doesn't come with the kind of anticipation that, in an earlier time, would have had people camping out all night for tickets.
But imagine them doing something like this for Star Wars: Episode VII, or (someday) the Justice League. I know more than a few geeks who would happily pay extra to be two days ahead of the crowd. The World War Z experiment may not be a huge hit this time-- hell, the movie itself may not be a hit at all. But don't expect this to be the last time that theaters attempt to sweeten the deal and encourage you to buy a ticket. With a few tweaks, I can see this becoming a major success for them.
Staff Writer at CinemaBlend