Pan Already In Danger Of Being A Huge Flop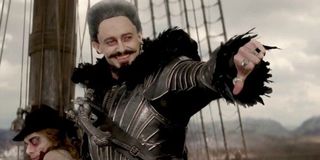 Even though it's only been in cinemas for a matter of hours, things aren't looking too good for Pan. In fact, they're looking downright disastrous, because the early box office estimates are that it is going to be a huge flop for Warner Bros., with the current prediction being that it's only going to take in around $21 million.
Variety believes that Joe Wright's attempt to bring Peter Pan and Neverland to a new and modern audience is going to dramatic fall short. And with Warner Bros. having spent the rather astronomical sum of $150 million on the new origin story for J.M. Barrie's character it's a failure that will undoubtedly hurt the studio.
What makes the loss even harder to take is that it's coming on Columbus Day weekend, which means that families across the United States Of America have an extra day to consider taking their brood to see the adventure. But, even with a further 24 hours to fill-up, people are deciding to go elsewhere.
Pan has been released in 3,515 locations, and if the early projections prove to be correct then it would be a catastrophic loss for the studio. In order for Warner Bros. to pull even and make a profit, Pan is going to have to amass somewhere between $350 million and $400 million at the global box office.
And even though Pan is also opening in 52 other countries this weekend, with an opening slot in the sometimes lucrative China territory on October 22, hopes are quickly dwindling that it will come anywhere near to getting the sum of money needed to be labelled a success.
If Pan fails in as disastrous a fashion as has been predicted then the previous plan for the film to be the start of a brand new adventure franchise will almost certainly be shelved. Warner Bros. made it known when they decided to greenlit Pan that they had big plans for future installments, with its stars signing multi-picture deals, and even during recent press junkets the cast and crew have teased that they'd be willing to return.
But why has Pan failed? Well, it didn't really get off to the best start as people were outraged that Rooney Mara had been cast in the role of Tiger Lily, who has previously been depicted as Native American. Even though Rooney Mara and director Joe Wright have competently explained why The Social Network actress was cast, it still meant that the film started off on the back foot.
Then, Pan was pushed back from its original release date of June 26, 2015, which is never a good sign. It also didn't help then when it was finally screened it was met with poor to mixed reviews from critics, who praised its look and visuals, but panned its plot and story. And with family films like Hotel Transylvania 2 and Goosebumps already, or soon to be, in cinemas, there just wasn't enough room for Pan to fly.
Your Daily Blend of Entertainment News
Thank you for signing up to CinemaBlend. You will receive a verification email shortly.
There was a problem. Please refresh the page and try again.