Will There Be A Pan 2? Rooney Mara Says This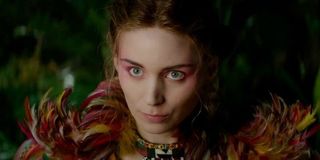 Currently, franchises are king. Yeah, Hollywood is sort-of interested in your story and film if it's riveting, unique, and teaches audiences something about themselves in an entertaining and profound fashion. But more important than that is its sequel, and hopefully sequels potential. We're still yet to see if Pan will thrive at the box office, but if it does, Rooney Mara thinks that a follow-up will probably happen.
Rooney Mara made this admission to me when we had a chat about Pan during the press junket for the film a couple of weeks ago. And while she admitted that the decision rests in the hands of the audience and studio, she made it clear that there's still plenty of room for the story to expand. She explained:
But what are the chances that Pan is going to make a splash at the box office? At the moment, expectations are remarkably low. That's because early word regarding the film has been relatively mixed. In fact, relatively mixed is putting it mildly, and while the film hasn't exactly savagely been attacked by critics, it's hardly been soundly endorsed either.
Of course, mixed reviews don't always result in a poor box office return. But, according to the experts, this is actually the case with Pan, and the predictions are that it's going to be a painful flop for Warner Bros., who have put around $150 million into producing the adventure.
According to Variety, even though it is Columbus Day weekend and parents and kids will be looking for something to do with their extra day, Pan is currently only on track to make $21 million, even though it's going to be on 3,515 screens. It's believed that, in order to make a profit, Pan will actually have to gross between $350 million and $400 million worldwide. Unfortunately, if Pan ends up making the amount that has been predicted, then it will be an almighty struggle to reach that sum.
What Warner Bros. hopes for is that Pan is able to fare better overseas, as it is being released in 52 other countries this weekend. It's also going to open in China later this month, which has proven to be a rather lucrative territory for studios in recent years.
In Pan, Rooney Mara stars as Tiger Lily, opposite Hugh Jackman as Blackbeard, Garrett Hedlund as James Hook, and Levi Miller as Peter Pan. It's a reimagining of J.M Barrie's character and a new origin story for both Pan and Captain Hook. Pan is going to be in cinemas starting tomorrow. And if you want to see a sequel you're probably going to have to take everyone you know to watch it. Twice.
Your Daily Blend of Entertainment News