Paul Blart: Mall Cop 2 (Yes Really) Gets A Release Date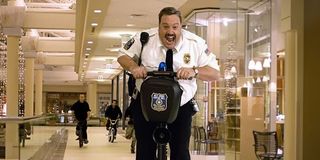 Are you sitting down? Are you ready for this? Promise not to poop yourself with excitement: there's a sequel to Paul Blart: Mall Cop coming out. It's called Pall Blart: Mall Cop 2, and Kevin James returns to the segway and tight dress pants of the hit film. And now, you can plan your schedule to avoid missing what may be the cinematic event of 2015.
Columbia Pictures (via Variety) has officially announced that April 17, 2015 is the landing point for the continuing saga of Blart, the defender of the mall. The original was helmed by Steve Carr (Daddy Day Care) but this installment falls under the leadership of Parental Guidance steward Andy Fickman. The hope is that they'll preserve the dignity and continuity of the first film, which saw James as the titular security guard helping to defend the mall from criminals. This time around, Blart is at a security convention when he takes on a group of art thieves.
The original grossed $183 million worldwide on a $26 million budget, which were likely numbers heavily boosted months later by a healthy TV and DVD afterlife. The new one is similarly small-ish, most likely, and now has claimed the aforementioned release date all to itself. An aggressive stance, for sure: by April 10th of next year all of the world will be counting down the days of release until Paul Blart: Mall Cop 2 dares to provide answers to the many unanswered philosophical questions laid out by the 2009 original. Adam Sandler is again returning to produce, bringing his golden touch to a film that starts production later this month.
While the Paul Blart sequel is the only release scheduled for April 17th next year, it is a fairly crowded month, continuing a trend where blockbusters slowly try to kick-start the summer movie season long before summer has actually arrived. Audiences will be spooked by Insidious Chapter Three and romanced by Nicolas Sparks' weepie The Longest Ride on April 3rd, and on April 10th, Universal brings out the big guns with the seventh in the Fast And The Furious series. As of now, there's nothing scheduled for the rest of April, because everyone is going to do their best to stay out of the way of May 1st juggernaut The Avengers: Age Of Ultron. For Blart fans who also like superheroes, you've got two weeks to root for superstar Kevin James, because any theater not showing the superhero mash-up is going to be like a desert island. Catch the trailer to the original Paul Blart below, and remember the majesty.
Your Daily Blend of Entertainment News