Paul Gets A Red Band Trailer So Kristen Wiig Can Smoke Pot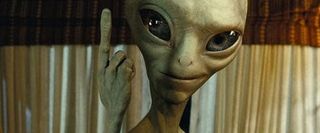 Paul has a new, red band trailer. Why is it a red band trailer? At some point in the trailer Simon Pegg grabs Kristen Wiig's boob, but she's wearing a shirt so I'm pretty sure that's not it. There's not a lot of red band activity going on in this trailer, except for a scene where Kristen Wiig smokes pot. Is that red band material? The red band warning in front of this trailer would seem to suggest it is.
Check out the new red band trailer for Paul, to see Kristen Wiig getting high with a CGI alien voiced by Seth Rogen.
Here's a list of the things I like about this trailer, in order: Kristen Wiig, Simon Pegg, Nick Frost, the narrator, that ship that looks like it's from Close Encouters, that weird looking guy who was on Reno 911, the cinematography, some of the music, Kristen Wiig, the Winnebago, marijuana, boob grabbing, Jason Bateman, rednecks at the Roadhouse Bar, Bill Hader, Kristen Wiig, camping, fireworks, and the font used on the movie's title.
Please notice what I didn't list.
For more on Paul visit its page in our BFD.
Your Daily Blend of Entertainment News
Thank you for signing up to CinemaBlend. You will receive a verification email shortly.
There was a problem. Please refresh the page and try again.