Paul Greengrass To Direct Aaron Sorkin's Script The Trial Of The Chicago 7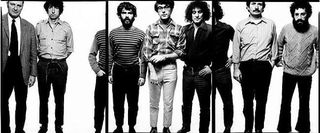 Paul Greengrass, who's preparing to tug at our heartstrings with this fall's Captain Phillips, will take on yet another huge true story-- but this one with much trickier politics behind it. According to The Hollywood Reporter Greengrass is in final talks to direct The Trial of the Chicago 7, based on the true story of the riots that surrounded the Democratic National Convention in 1968, adapted into a script by none other than Aaron Sorkin.
When the film first started moving way back in 2007, Sorkin was still recovering from the flop of Studio 60 on the Sunset Strip, and was looking toward the winter release of Charlie Wilson's War to turn his fate around (that didn't work out so well-- but The Social Network would pull it off a few years later). At the time Steven Spielberg was actually eyeing the directing job on the Chicago 7 script, and started rustling up a high-profile cast that included Will Smith, Taye Diggs, Adam Arkin, Kevin Spacey and Philip Seymour Hoffman. Then development halted and later that year Greengrass's name was attached to the film, before it fell off the map entirely and Greengrass moved on to make Green Zone and eventually Captain Phillips.
Now Greengrass has looped back around and picked the film back up after all, with DreamWorks funding the film and Disney planning to distribute. There's no word on when production would begin, but after Captain Phillips opens this fall Greengrass has a few other items competing for attention on his schedule. Last month he seemed ready to start production on the Martin Luther King Jr. assassination drama Memphis, for which Forest Whitaker was eyeing the lead role. He had trouble securing financing for the project, though, so it's possible he might prefer Chicago 7 as a sure thing. At one point he was also eyeing a crime thriller with George Clooney attached to produce and star, but given how busy that guy stays, it would be no surprise if it had fallen apart.
The story of the Chicago 7 is one of the most complicated and consistently captivating of the 1960s protest movement, and has already been turned into documentary and, apparently, a Netflix streamable movie starring Mayim Bialik and Gary Cole. The group, which included Yippie founder Abbie Hoffman, was tried for helping to organize the riots that surrounded the 1968 Democratic National Convention, protesting the Vietnam War. The actual number of people changes from time to time-- seven people went on trial together, while an eighth, Black Panthers co-founder Bobby Seale, was "severed" from the case after being disruptive in court; the documentary Chicago 10 took its title from a quote from Jerry Rubin: "Anyone who calls us the Chicago Seven is a racist. Because you're discrediting Bobby Seale. You can call us the Chicago Eight, but really we're the Chicago Ten, because our two lawyers went down with us." Will Sorkin pay attention to that and change it to 8? Given how much flak he gets on a weekly basis for the politics of The Newsroom, we're guessing he's long since developed a thick enough skin to ignore pretty much any complaint.
Your Daily Blend of Entertainment News
Staff Writer at CinemaBlend