Paul Walker's Famous Fast And Furious Car Is Going Up For Auction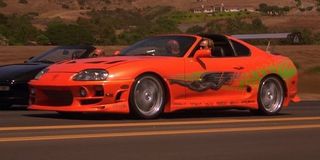 Paul Walker may be gone, but he won't soon be forgotten. Fans, especially those with an interest in his work in the Fast and Furious franchise, will soon be able to own a piece of his cinematic legacy, as one of his most memorable cars from that family of films is coming up for auction.
According to The Hollywood Reporter, the bright orange, decal-covered 1993 Toyota Supra that Walker's character, undercover cop Brian O'Conner, drove in the first film, 2001's The Fast and the Furious, is going to be available for purchase in the very near future. The car participated in stunts in "key scenes" from the film, and if you need a refresher course on some of these, just take a look at what it can do racing a Ferrari down the Pacific Coast Highway.
If you want to get your hands on this super-powered machine, Mecum Auctions plans to list it at their Indy 2015 event, which, as you may have guessed, goes down in Indianapolis, Indiana. This shindig takes place between May 12 and 17, in conjunction with the 99th annual running of the Indy 500, which runs for the checkered flag on May 24. If you do want to add this to your collection, however, you better bring your checkbook, and maybe any other bank account you can get your hands on, because the car is expected to fetch between $150,000 and $200,000. That's a little rich for my blood.
Despite the gargantuan expense, you will get what sounds like a pretty sweet ride for your money. The Supra sports a 2JZ-GE 3.0-liter inline-6 engine, and while I have no idea what that means in real world terms, it certainly sounds impressive, and with 220 horsepower under the hood, I do know that this vehicle is fast as hell. In addition to the kick-ass engine and bitchin' paint job, it also sounds like it's relatively safe, as it features both a pumped up stunt suspension system as well as a roll cage. Both of those features were designed to keep stunt drivers free from injury and will probably serve you just as well. Then again, if you pony up $200K for this, you may very well drive it like an old grandmother or just gawk at it sitting in your garage looking pretty.
Even though Paul Walker is no longer with us, the Fast and Furious franchise is still as much, if not more of, a force to be reckoned with than it ever was. Not only is the latest chapter, Furious 7, the fastest movie ever to earn $1 billion at the box office, but just today, Vin Diesel announced that Fast and Furious 8 will roar into theaters on April 14, 2017.
Your Daily Blend of Entertainment News
Your Daily Blend of Entertainment News
Thank you for signing up to CinemaBlend. You will receive a verification email shortly.
There was a problem. Please refresh the page and try again.