Paul Walker's Younger Brother Might Help Fast & Furious 7 Finish Up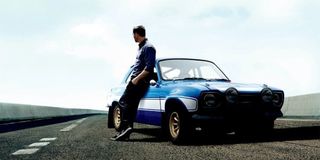 With the sudden and tragic death of Paul Walker, Fast & Furious 7 and the future of the franchise were called into question. As his family and colleagues grieve over their lost loved one, the franchise's filmmakers have been tasked with how to handle completing the series' seventh installment without one its key players. The latest rumored possibility is that they will call upon the late 40-year-old's younger brother Cody Walker to step into the role of Brian O'Conner.
The Daily Mail reports that though production on Fast & Furious 7 is currently on hold, Universal Pictures has began discussions with Cody about how he might contribute to the revised version of the film, which will retire the character Paul Walker played since 2001, when The Fast and The Furious first debuted. Cody isn't entirely new to being on camera, as he's done work as a movie stuntman. However, while he is said to bare a striking resemblance to his older brother (you can see photos in the Daily Mail's article), it doesn't sound like he'll be given much acting to do. A source said to be close to the production explained, "They can shoot Cody from behind and at distance and if it's a shot they need Paul's face in close up they can CGI it later on." Basically, it seems they are pulling a page from The Crow's troubled production playbook.
Even with this approximation of a plan in place, there's no update on when Fast & Furious 7 will go back into production. With Walker's funeral tomorrow, Universal is attempting to be respectful to the star's family and friends by allowing them time to mourn, rather than pressing the issue. While some might scoff at the idea of "replacing" the older Walker for the younger, I personally find this a unique opportunity for one brother to pay tribute to another by helping his colleagues complete his final film. Despite The Daily Mail claiming Cody is "set" for this task, however, their insider seems less certain of his involvement, saying,
Universal is also said to be in touch with Walker's surviving family members to figure out the most respectful way to write his character out of the franchise. While other Fast & Furious figures have left through fatal automobile accidents, that would obviously be a pretty tasteless route considering the unfortunate circumstances of Walker's death. For now, screenwriter Chris Morgan is pouring over the footage that's already been shot to come up with script revisions that can allow for an elegant exit of the O'Conner character while likely using as much existing footage of Walker as possible. Depending on how that goes, previous reports have suggested Fast & Furious 7 could be back in gear by January, but that's far from likely.
Your Daily Blend of Entertainment News
Staff writer at CinemaBlend.