Pee-wee's Big Holiday Adds Jessica Pohly As Badass Role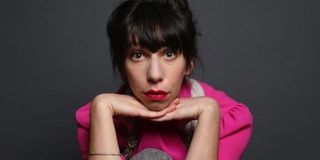 We're pretty excited around these parts for Netflix's upcoming movie Pee-wee's Big Holiday, which sees Paul Reubens return to his beloved alter ego. The cast has been coming together, and now they've added Jessica Pohly in a potentially badass role.
According to Variety, Pohly will make her feature film debut in Pee-wee's Big Holiday playing the leader of a gang of bank robbers, which is awesome because that means Reubens' ridiculous little man child is going to come into contact with a gang of bank robbers. We've seen him run afoul of bikers before, knocking over their precious motorcycles, so it'll be interesting to see how he gets out of this sticky situation. Perhaps it will involve more sweet dance moves, or maybe he has some more tricks up his sleeve.
Though she's never appeared in a full-length film, Pohly has shows up in small roles on a variety of TV shows, including Rake, Modern Family, and Super Fun Night, where she played characters with names like Female Pedestrian, Impatient Mom, and Female Bartender. This isn't to imply that she's some kind of acting virgin, far from it. She's created roles with playwrights like Pulitzer Prize-winner Adam Rapp and Adam Szymkowicz (House of Payne), and she's even toured with the American Shakespeare Center.
We don't know a ton about Pee-wee's Big Holiday at the moment, but Pohly joins a cast that we recently learned also includes True Blood and Magic Mike star Joe Manganiello. We don't know who he plays, but Reubens shared a photo of them via social media just the other day. What little we do know about the plot is that there is a critical encounter with an unusual stranger (maybe Manganiello?), that compels Pee-wee to go on his very first holiday, which reportedly turns into an "epic story of friendship and destiny." Sounds about right.
Paul Reubens and Paul Rust (Arrested Development, Comedy Bang! Bang!, The Pee-wee Herman Show on Broadway) wrote the script. Produced by Judd Apatow and directed by John Lee (Broad City, Inside Amy Schumer, Wonder Showzen), whatever the story is, this promises to be one hell of a good time. And now we know that there are bank robbers, which only sweetens the deal even more.
There's no hard and fast release date just yet for Pee-wee's Big Holiday, but Netflix will handle all of distribution details, premiering the film across all of its territories. Filming kicked off back in March, so we'll likely be seeing more photos, casting news, and plot details trickle in over time.
Your Daily Blend of Entertainment News
Your Daily Blend of Entertainment News
Thank you for signing up to CinemaBlend. You will receive a verification email shortly.
There was a problem. Please refresh the page and try again.