Pee-wee Herman Is Back In This Adorable Pee-wee's Big Holiday Set Photo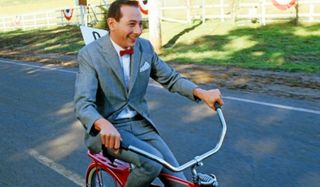 Pee-wee Herman is back in his bowtie and sending smiles across the land. Comedian Paul Reubens put his familiar costume back on and even created an Instagram account to get the world excited for his reprised role in the new Pee-wee's Big Holiday. And boy is it doing the trick, we can't wait!
The Instagram photo is Pee-wee's first and he had the help of newly cast Joe Manganiello to capture the adorable selfie. The True Blood star joined Pee-wee's Big Holiday cast just last week, announced by Pee-wee himself. In his 'My Log' post, Pee-wee admits that "The Secret Is Out!":
Pee-wee wouldn't divulge any info on the role Manganiello will be playing, but from the photos on his blog and the above Instagram shot, looks like the two are getting pretty chummy, and it wouldn't be surprising to see Manganiello play an important role in the upcoming adventure.
There's still a lot of surprises in store when it comes to Pee-wee's upcoming film. All we know so far is that there will be some sort of fateful encounter with a peculiar stranger (Manganiello, possibly?) that will inspire Pee-wee to venture out on his very first holiday. A press release on the film teased an "epic story of friendship and destiny" written by Reubens and Paul Rust and with Judd Apatow producing and John Lee directing, it is sure be a crazy awesome ride.
It's been years since word of this Judd Apatow-produced project first came up. Back in 2010 news of Apatow and a Paul Reubens collaboration surfaced and the world rejoiced. But, years passed and the project died down for a while. That was until 2013 when Reubens announced there was a director on board, but even then, he wouldn't share the name of the helmer. Now that we know Wonder Showzen creator and director, John Lee is on board (who has been doing some amazing things lately with Broad City), and it's all starting to come together quite nicely. The film has even paired up with Netflix as their distribution partner, a perfect fit according to Reubens.
No release date for the film has been announced yet, but production started in March, so more news (and hopefully more Pee-wee Instagram photos) are sure to come.
Your Daily Blend of Entertainment News