Penelope Cruz And Monica Cruz Together Again In Pirates Of The Caribbean 4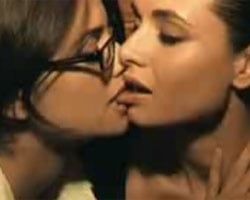 Penelope Cruz is in the next Pirates of the Caribbean movie, and the fact that she's in it, is pretty much the only reason we left her off our list of 20 Actors Who Deserve Your Support. Normally she's the kind of actress who seeks out only the most challenging and interesting roles. She pushes the envelope, sometimes she even pushes it too far and ends up in a music video making out with her sister.
That happened a few years ago with her sister Monica Cruz in this now infamous video for their brother Eduardo (warning the following video is sort of NSFW:
Yeah so, gross. But let's just say they're acting (besides the kiss is more of a lip bite right?) and move on because the Cruz sisters are together again, only this time in a far more wholesome way in a movie Disney hopes you'll take your kids too. Monica is working as Penelope's double on Pirates of the Caribbean: On Stranger Tides. The news comes from the notoriously unreliable British tabloid The Sun where they say Monica is handling a lot of Penelope's body shots, since her sister is increasingly pregnant and, I guess Jack Sparrow doesn't date pregnant chicks or something.
Penelope's 5 and a half months pregnant with Javier Bardem's hot-blooded seed, so she'd definitely be showing, and as you can tell from the above video they're pretty similar physically. That should work and Monica has plenty of acting experience in a variety of Spanish films, if they want more from her. See if you can spot the difference when Pirates of the Caribbean 4 arrives on May 20, 2011.
Your Daily Blend of Entertainment News
Thank you for signing up to CinemaBlend. You will receive a verification email shortly.
There was a problem. Please refresh the page and try again.