Pennywise Would Have Looked Terrifying In This Planned It Adaptation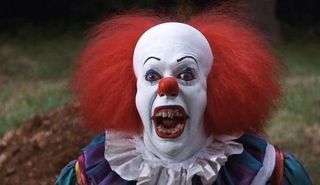 It seems it's harder than we thought to make another version of It, the classic horror film based on the beloved Stephen King novel. In the wake of True Detective's Cary Fukunaga vacating the director's chair on New Line's remake, thereby sticking it on the backburner indefinitely, some new concept art for another failed remake has hit the airwaves. Take a look at how concept artist Amro Attia would've envisioned the killer clown.
Vincenzo Natali directed Splice, "U for Utopia" in the second ABCs of Death, and seven episodes of Hannibal, and apparently he was also working on a remake of It. Based on a tweet he posted yesterday, he had a hand in creating some concept art with Attia, his Splice creature designer, and the two conceived these horrific apparitions of Pennywise. As he wrote, the "not so good ones" are by him, and they kind of look like they're pleading with us and saying, "Kill me!" Attia's, on the other hand, are the stuff of nightmares. The fact that it's become so easy to transform clowns into such deformed creatures attests that these allegedly child-friendly beings are the devil's puppets.
The unveiling of this concept art comes hot off the heels of the drama with New Line. The studio was developing a remake with Fukunaga on board to the direct, after the project was originally set up at Warner Bros. Casting had already begun, with We're the Millers and The Maze Runner star Will Poulter leading the role as the murderous muppet Pennywise. Unfortunately, mere weeks before the It remake was scheduled to start production, Fukunaga dropped out. A variety of reasons have been rumored to be the cause, but the most credible ones involve a battle over creative differences and budget cuts. Now the film has been put on hold until further notice and might never get off the ground.
The original It was a two-part TV event that aired in November of 1990 on ABC and starred Tim Curry as the clown. Since then, no one has been able to recreate the magic, and perhaps that says something. For as terrifying as Attia and Natali's concept art looks, maybe it's a good thing that this one stays dead. Though, if anyone were to helm a remake of this horror classic, it should've been Fukunaga. Good news for Natali, though: he still gets to direct an adaptation of another King novel, In the Tall Grass.
Your Daily Blend of Entertainment News