Peter Dinklage Joins Death At A Funeral Remake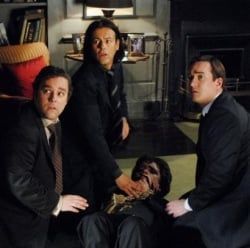 When we reported the cast list a few weeks ago for Chris Rock's planned remake of the British farce Death at a Funeral, I wondered who would be taking over the role that Peter Dinklage memorably, hilariously played in the first film. Based on the cast list I thought it might be James Marsden, but Production Weekly seems to have told us who will be taking over for Dinklage: Peter Dinklage.
The actor's name was added to the cast list in the most recent issue, and if they've got it right, that means they agree that no one can top Dinklage's performance in the previous film. The only American character in the film, Dinklage's role was the man who showed up at the funeral threatening to reveal a secret about the dearly departed father and throwing the entire funeral into turmoil. Well, the whole thing was crazy to begin with, what with one relative accidentally high on Ecstasy and everyone else bickering their way through the day.
I'll be very, very thrilled if this news turns out to be true; given that the filming supposedly starts at the end of this month, we won't have long to wait and find out.
Your Daily Blend of Entertainment News
Staff Writer at CinemaBlend