Peter Sarsgaard To Star In Bill Monroe Biopic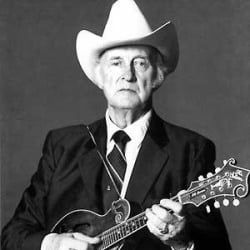 When you have parts in big budget action films, it's only natural to want to do some smaller, independent filmmaking. Peter Sarsgaard thinks so at least. The Wrap is reporting that Sarsgaard is slated to star in an upcoming biopic about the "Father of Bluegrass" Bill Monroe. Sarsgaard is a longtime fan of Monroe's and had approached script writer Callie Khouri (Thelma and Louise) about helping her rewrite the early draft. Sarsgaard would play the legendary musician with director Finn Taylor (The Darwin Awards) on board to helm the project.
The mandolin-playing Bill Monroe, along with his band "The Blue Grass Boys," is credited with creating the bluegrass style of music (taken from his band name). He came from a large musical family and both his parents died before he reached the age of seventeen. Monroe went on to form his band and rise in the music scene during the 1940's and 50's with songs like "Blue Moon of Kentucky." He fell on somewhat harder times in the early 1960's with the birth of rock and roll, but saw renewed success with the folk revival. His story took him from his small family farm to eventually the Country Music and Rock and Roll Halls of Fame.
Sarsgaard is currently in theaters alongside Tom Cruise in big-budget Knight and Day. His next blockbuster feature has him in the currently filming Green Lantern with Ryan Reynolds.
Your Daily Blend of Entertainment News
Doug began writing for CinemaBlend back when Terminator: The Sarah Connor Chronicles actually existed. Since then he's been writing This Rotten Week, predicting RottenTomatoes scores for movies you don't even remember for the better part of a decade. He can be found re-watching The Office for the infinity time.