Pharrell Debuts Addictive 24-Hour Music Video For His Oscar-Hopeful Song 'Happy'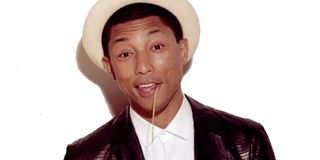 There's not a single song I'd willingly listen to for 24 hours straight-- my favorite song of all time, The Jackson 5's "I Want You Back" used to be my ringtone until I wore out on it and had to give it up. But I invite you to take the 24 hour challenge anyway with Pharrell's "Happy," because dear God have he and a bunch of talented dancers made it worth it.
Click the above link-- just do it-- and you'll see someone busting a move in a Los Angeles location and looking thrilled to be there. The really magical part happens once you're at the site-- you can scroll around that clock to find a different dancer for every time of day, and the song will automatically start again at the same point you left it. You can watch every dance in its entirety and spend 24 hours doing it, or you can scan through all of Los Angeles-- and hundreds of dancers-- in just three and a half minutes.
Poking around for a while is worth it-- cameos include Magic Johnson, Steve Carell, Jimmy Kimmel, Pharrell himself (he appears once an hour, it seems) and even a big yellow minion. "Happy" started out as a track from Despicable Me 2 soundtrack. Its reappearance-- and this splashy, very expensive video-- are appearing at this time of year for a reason. As a member of the Broadcast Film Critics Assocation, the group that votes on the Critics Choice Awards, I receive all kinds of things in the mail as studios attempt to win votes for their films. Last week I got a vinyl copy of "Happy"-- on minion-yellow vinyl, no less!-- autographed by Pharrell. I can't remember when I've ever seen this kind of push for a single song, much less one with a video starring pill-shaped yellow aliens.
So will "Happy" win the Best Original Song Oscar? As in most years the competition is weird, scattered and mostly disqualified because of arcane rules (the fantastic "Please Mr. Kennedy" from Inside Llewyn Davis may be ineligible because it's inspired by an earlier song, which is infuriating). We know that "Happy" will be up against heavy hitter competition from Disney's Frozen, which features several phenomenal original songs, as well as The Great Gatsby, which commissioned a soundtrack crammed with huge stars. Then again, there hasn't been a much bigger star this year than Pharrell, who was behind the summer's two huge hits "Get Lucky" and "Blurred Lines" . The guy's probably going to EGOT eventually, so why not start the process now?
One last thing-- if watching 24 Hours Of Happy makes you want to watch more people dancing joyfully around a city, please check out the film Girl Walk/All Day, which is exactly that but set to Girl Talk mash-up music. Check out that film's trailer below, and may joyful dancing be with you always.
Staff Writer at CinemaBlend
Your Daily Blend of Entertainment News
Thank you for signing up to CinemaBlend. You will receive a verification email shortly.
There was a problem. Please refresh the page and try again.