Pinkberry: The Movie Actor Miles Fisher Joins 5nal Destination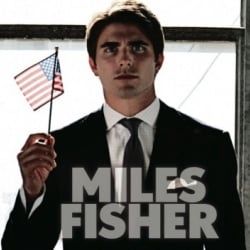 You don't know who Miles Fisher is, probably, but if you're familiar with various Internet memes you might have come across him-- he did a dead-on Tom Cruise impression that may well have been the only bright spot of Superhero Movie, and he was the Ari Gold-type super agent in the spoof of all things stupid and Hollywood, Pinkberry: The Movie. Now Fisher is going to be associated with something else stupid and Hollywood-- except, sadly this one will be real.
Deadline Hollywood reports that Fisher has been cast in Final Destination 5, which is apparently also quite seriously going by the title 5nal Destination. They're not saying what his part will be, but it seems safe to assume he'll be some smart-alecky young guy who thinks he can cheat death before he is offed in some gruesome and unpredictable way. Fisher has also had roles on Mad Men and Gossip Girl, so Final Destination 5 might be a step down in some ways, but he might be the first person to take a hilarious Tom Cruise impression and turn it into a career, so good on him.
"Pinkberry: The Movie" embedded for your amusement below.
Your Daily Blend of Entertainment News
Staff Writer at CinemaBlend