Plans For A School Of Rock Sequel?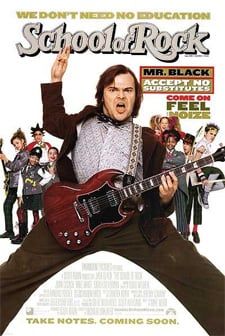 I remember when Jack Black was a relatively unknown name. Boy, those were the days. He's come a long way since then, proving himself as both a comedic and dramatic actor, and returning to his roots every once in a while for stuff like Tenacious D: The Pick of Destiny. With Black becoming more and more popular, it should come as no surprise that studios want to capitalize on things that put Black at his best. Just take a look at this summer's Kung Fu Panda as proof – the animated character may be voiced by Black, but it's his Black-style physical behavior that truly makes the movie.
It looks like there's another way to capitalize on Black's success, and that's by returning to projects that worked for the actor in the first place. Catching everyone by surprise, actor/writer Mike White announced at this weekend's LAFF panel that he had just finished a script for a sequel to School of Rock, one of the best live action Jack Black films to date.
The news comes from Defamer.com, who didn't have much more to report than the existence of a script. White couldn't disclose any details about plot or story, but he did say he had just finished it and the script made him cry. Of course, he also says he doesn't know if it'll actually get made, but at least it sounds like White isn't just doing a sequel for sequel's sake. "You want to have a reason to go to the well again. You want it to not just be a reason so people can cash in. But at least now I have a better sense of what it was we created — what worked and what didn't. I can kind of reboot it."
White may not know if the sequel will wind up being made, but considering Black's current success level, I can't imagine anyone not wanting to get him involved in the sequel. I know I'd love to see Mr. Black back in the classroom, rocking out and teaching others how to do the same.
Your Daily Blend of Entertainment News
Thank you for signing up to CinemaBlend. You will receive a verification email shortly.
There was a problem. Please refresh the page and try again.