The New Power Rangers Movie Will Be More Mature, But Still Playful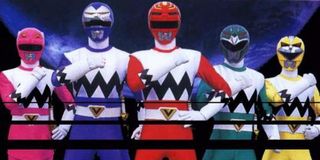 The new and improved Power Ranger movie has been gaining steam over the past few months. Though the release date was pushed back to 2017, all in all, it's all been moving fairly quickly with the recent announcement of director Dean Israelite (Project Almanac) aboard the project. And now Israelite is revealing exciting details about what to expect from the upcoming sure-to-be blockbuster, specifically a more mature yet still playful storyline.
The release date may have moved from Summer 2016 to January 2017, but that gives Israelite and team plenty of time to get an interesting story moving. And with screenwriters Zack Stentz and Ashley Miller of X-Men: First Class and Thor aboard, we're expecting great things. While Israelite couldn't divulge too much information about the inner workings of the film, he did give us a snippet to start getting excited about. In an interview with IGN Israelite admitted:
Israelite explained that he had no idea what to expect upon receiving the script. He had grown up with the series as a kid, and knew it would be updated, but it was all just very impressive. Apparently, the the team is currently in "soft pre-production", working on design work and a reimagining of the world. But, from the sound of it, the new Power Rangers film is going to give us a glimpse into a future that we haven't necessarily seen before. We got it a little bit, earlier this year when Adi Shankar released a short film of a much darker and bloodier Power Rangers story than we've ever seen before. The new film will by no means be that dark, but at least the tease of a more mature and contemporary story can attract older audiences that grew up with the franchise.
There hasn't been much information on the direction that Power Rangers would take, so just knowing that it can attract a more mature audience is a step in the right direction. The original series focused on a group of high school students given special supersuits that they use in order to fight against the forces of evil and protect the world from a whole slew of monsters and robots alike. We don't know whether this Power Rangers film will work as an origin story, or if we will just be jumping into the universe at a later point, but it is an exciting prospect for a reboot to adhere to its previous playful tones while giving it a contemporary spin. Power Rangers is currently slated to release on January 13, 2017, and more details are sure to come.
Your Daily Blend of Entertainment News
Thank you for signing up to CinemaBlend. You will receive a verification email shortly.
There was a problem. Please refresh the page and try again.