New Prince Of Persia Featurette Introduces The Hassansins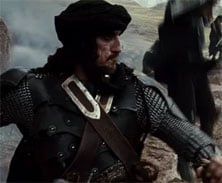 What do you call a group of bloodthirsty killers-for-hire who sing sugary pop music intended to cater to twelve-year-old girls? Hassansins of course. Or at least I assume that's where Prince of Persia came up with the name of its bad guys.
We have a new, behind the scenes featurette for The Prince of Persia: The Sands of Time and the this one is focused solely on Hassansins, the killers who pursue Dastan. You won't actually see any of them pick up a guitar and start singing "Mmmbop" at any point during the featurette, but with a name like that, it has to be happening somewhere off camera, I assume. Watch:
Your Daily Blend of Entertainment News
Thank you for signing up to CinemaBlend. You will receive a verification email shortly.
There was a problem. Please refresh the page and try again.