How Quentin Tarantino Will Respond To His Police Protest Controversy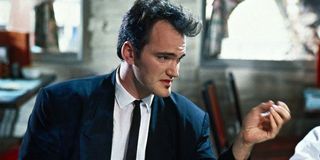 Last week, Quentin Tarantino courted quite a bit of controversy when he attended a rally against police brutality in New York City. Just doing that probably wouldn't have been so bad. But the fact that the director insinuated that police officers were "murderers" at the event has left him in scalding hot water. And now, by all accounts, Quentin Tarantino is expected to apologize for his remarks.
Quentin Tarantino has kept relatively quiet since he started this kerfuffle. But there has been a rising discontent from police over Tarantino's comments, and the filmmaker has now decided that his best course of action is to apologize. It is believed that Tarantino is now planning on explaining his comments with an opinion piece, in which he will apologize to the people he has offended. It's not known which media outlet, or exactly when the director will make this apology though.
That's according to The Wrap's sources, who have learned that Quentin Tarantino has started informing his colleagues of his plans to say sorry. Tarantino has found himself being attacked by police departments across the USA over the last week and a half.
Tarantino started this chain of events by talking to a rally against police brutality in Manhattan on Saturday, October 24. At this gathering, Quentin Tarantino told the gathered crow of around 300 people:
One man who will be rather relieved of Quentin Tarantino's impending contrition is Harvey Weinstein. Weinstein, whose company The Weinstein Company is distributing The Hateful Eight, has been friends with Tarantino for more than 20 years, but is also active in New York City politics. Meaning he was firmly in the middle of this storm.
Quentin Tarantino's comments were immediately met by a surge of discontent by police officers. Then, in the following week, police unions declared their plans to boycott Tarantino and his films. Which might not have been as big an issue if Quentin Tarantino hadn't just finished directing Hateful Eight, due out at Christmas.
Then, on Friday, the National Association of Police Organizations, which has around 241,000 law enforcement officers as members and represents a further 1,000 police units, told their posse to boycott Hateful Eight too. With pressure increasing, Tuesday's New York Post decided to try and force Tarantino's hand by releasing the following cover story:
Quentin Tarantino has had his fair share of supporters, though. On Sunday, Jamie Foxx, who played the lead in Quentin Tarantino's Django Unchained, introduced the cast of The Hateful Eight by also declaring, "Keep telling the truth and don't worry about none of the haters." Tarantino wasn't in attendance to thank Foxx for his approval.
Stay posted to Cinema Blend for further details of Quentin Tarantino's apology. While The Hateful Eight is due out on Christmas Day, 2015.