Where The Hateful Eight Will Screen In 70MM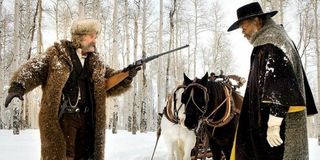 When The Hateful Eight is released on Christmas Day there will be two versions floating around cinemas. One was shot on 70 mm film format, has an overture and an intermission, and is displayed exactly how Quentin Tarantino originally intended for its 3 hour 2 minute running time. The other is the standard digital version, which is six minutes shorter and has some alternate takes of scenes. If you're one of those folks that really wants to see the former version of the film, then we have the theater list you've been looking for.
The list below (via Variety) is of the cities where The Hateful Eight's 70mm roadshow will call upon in the two weeks following its release on Christmas Day. 100 venues in these 44 markets will screen The Hateful Eight exactly the way Quentin Tarantino wants you to see it, and if you're anywhere near them then you really need to get there.
If you have the option, we highly recommend that you go and see The Hateful Eight on 70 mm, because it harks back to an age when cinema was more refined and elegant. Still need convincing? Well, if you see the film at one of the above locations then there's an outside chance that you could meet Quentin Tarantino himself, or one of the stars of The Hateful Eight. That's because the director and several members of its ensemble will be touring the country and then making surprise appearances in selected cities that are screening the 70mm print.
And just in case you're still not sure, here's a video of Samuel L. Jackson, who in The Hateful Eight re-teams with Quentin Tarantino again for the umpteenth time and is just as scintillating as ever, explaining why the roadshow version is just that extra little bit special.
The Weinstein Company have also decided to celebrate The Hateful Eight's release with their very own 12 Days Of Hateful Eight Giveaways, which will give people who buy roadshow tickets in advance from their website the chance to win a prize, piece of memorabilia, or a once-in-a-lifetime experience that's linked to the film. Basically, anyone who doesn't see The Hateful Eight in this fashion really is making a huge mistake. And, having done so, I can attest that it's 100% worth it.
The Hateful Eight rolls into select towns on Christmas Day, with a wide release set for December 31st.
Your Daily Blend of Entertainment News