Quicksilver Will Get Much Bigger Role In X-Men: Apocalypse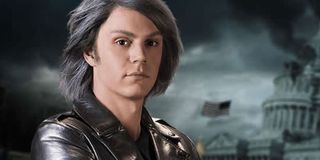 After a lackluster introduction in a stupid bit of cross-promotional advertising, the lightning-fast mutant Quicksilver is quick to become a fan favorite as a major highlight of X-Men: Days of Future Past. And good news from the movie's makers. They hear you. He'll have an expanded role in the next X-Men adventure.
IGN spoke with X-Men: Days of Future Past screenwriter Simon Kinberg, who confirms not only will Quicksilver pop up in X-Men: Apocalypse, he'll have a bigger, juicier part to play than he did in his first appearance in this movie universe. Kinberg explains:
In X-Men: Days of Future Past, Quicksilver is introduced as a cocky kid who can speed around to cause all kinds of shenanigans. As teased in the film's trailers, he is sought out in the 1973 section by young Charles Xavier (James McAvoy) to help bust young Magneto (Michael Fassbender) out of a specially built prison. It's an action sequence that is being roundly regarded as one of the best segments of the tent pole, but moreover it's the one that could make a star out of Evan Peters.
Peters has been popping up in movies since 2004's Clipping Adam, but either his films have been overlooked (like that one) or he's gotten a relatively forgettable role (like Todd in Kick-Ass). Where Peters has really made his mark has been on television. There he has proved a compelling and disturbing presence on three seasons of American Horror Story as Kyle Spencer, Kit Walker and Tate Langdon.
But mark my words: his scene-stealing in X-Men: Days of Future Past will be the tipping point this talented young actor has been building toward.
Get a glimpse of Evans and Quicksilver in action in this teaser trailer:
X-Men: Days of Future Past opens today. Talk about it with spoilers HERE.
X-Men: Apocalypse will open on May 27th, 2016.
Your Daily Blend of Entertainment News
Staff writer at CinemaBlend.