RSVP For A Free Advance Screening Of Bellflower In New York Next Monday!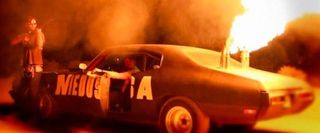 Ever since premiering at the Sundance FIlm Festival in January, the post-apocalyptic indie Bellflower has been taking the festival circuit by storm, almost literally when director/star Evan Glodell drove the film's fire-breathing car Medusa down the streets of Austin to kick off the film's run at SXSW. Now Bellflower is almost ready to be seen by the masses when it hits theaters on August 5, and if you're a CB reader based in New York City, you've got a chance to see it even sooner.
The details are all in the flyer below but here's the gist anyway. Just RSVP to the e-mail address nyrsvp *at* oscilloscope.net with your name, the number of guests you want to bring, and where you got the invitation-- in that case, right here at Cinema Blend. They'll let you know if you've got entrance to the screening next Monday, July 18 at 7 pm, at the SVA Theater on 23rd Street between 8th and 9th avenues. Glodell himself will be there to introduce the film, and there's an after party to follow if you should be so bold. Oh, and did mention that one attendee will get a free tattoo? We can't exactly say that we endorse permanently altering your body in the name of a movie, but when it's one as reportedly awesome as Bellflower, I suppose we'll let it slide.
Oh, and here's the film's official synopsis, if you want a better sense of what you're in for. You can also check out the trailer here:
Check out the full details on the flyer below, and get ready to meet Medusa in New York next Monday!
Your Daily Blend of Entertainment News
Staff Writer at CinemaBlend