Rachel Weisz Joins Robert Pattinson And Viggo Mortensen In David Cronenberg's Next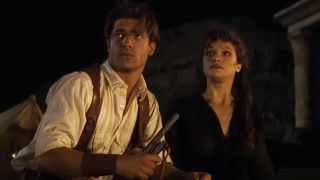 (Image credit: Universal)
With his fascination with the gruesome side of humanity and a particular interest in body horror, David Cronenberg is a visionary director who has a transformative power over an actor's persona. Just earlier this year he reframed Robert Pattinson in the minds of many critics with his jarring adaptation of Don DeLillo's Cosmopolis, wherein the Twilight dreamboat plays a vile billionaire who fixates on his prostate health, rigorously cheats on his svelte wife and hurdles himself into his own destruction. Now it seems Rachel Weisz, who has suffered a string of box office flops of late, is opening herself up to the same opportunity.
According to Allocine, Cronenberg's next effort will be called Maps to the Stars (translated from the site's French), and will reunite Cronenberg with Pattinson and Viggo Mortensen, who will co-star with Weisz. This will mark Pattinson's second film collaboration with the director, Mortenson's fourth—after A History of Violence, Eastern Promises and A Dangerous Method--and Weisz's first.
While the site has discovered that Maps to the Stars will roll into production in May of 2013, and boasts a budget of $15 million, no mention is made of precisely what the plot is. Of course, if you're familiar with Cronenberg's canon, you know that explaining the plot of almost any of his films is typically a tricky endeavor.
Nonetheless, it's exhilarating to see the talent he's already attached to the project. Both Pattinson and Mortensen have proven themselves game collaborators, and now Weisz has her shot to tangle with the iconic and odd auteur. As she has performed with grace and skill in projects as diverse as the mainstream action-adventure The Mummy, the art house epic The Fountain and the spirited and quirky comedy The Brothers Bloom, she should be up to the challenge.
Your Daily Blend of Entertainment News
Staff writer at CinemaBlend.