Rachel Weisz Leaves Mummy 3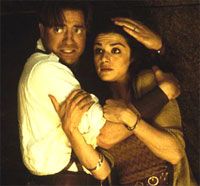 Bad news Mummy fans. Rachel Weisz has officially dropped out of The Mummy 3.
You might remember a few months ago we were the first place to break the scoop that there was trouble with Mummy 3. At the time we told you that Weisz was hesitant to take part in the third sequel because of severe problems with the script. Of course shortly after we posted that story, Universal called us to refute it. It looks like their claim that everything was fine with Mummy 3 was nothing more than PR spin. We had it right.
The same source that broke that original info to us contacted me tonight to update us on why Weisz left. Our source says, "the script is still in the same shape that it was the last time I told you about, meaning that its still crap and Weisz finally took the high road out of there." It sounds like even if they do manage to get other key cast members to participate, it won't matter. It will take a miracle to make The Mummy 3 good.
Your Daily Blend of Entertainment News