Radcliffe Naked In Harry Potter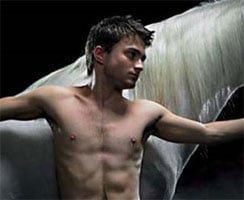 Harry Potter's boy wizard has been through a lot in his ongoing fight with Voldemort, but few expected he'd end up having to fight him without pants. But, according to a story on Contact Music (which has since been stolen without credit by unsavory bloggers and digg gamers), we'll see Harry Potter pink and nude in the last movie of the series.
CM's story isn't exactly clear on how they got this information. They do however include a quote from Radcliffe in which he says, "At first I thought I'd have pants (underwear) on for the scene. Apparently not. But I've sort of done that before on stage. It's all old hat now, really." It's not much of a quote really. He could be talking about anything. But CM insists he's referring to being naked in Harry Potter.
Radcliffe has of course, proven he has no problem with nudity. The "old hat" he's referencing is the stage play Equus, in which he appeared nude with a horse. I get that Radcliffe wouldn't care if he's naked, but I can't believe Warner Brothers would actually want nudity in their, till now, mostly for kids Harry Potter movies. Maybe they're taking the notion that the series gets more adult as it nears completion just a little too seriously? I can think of a lot of things I'd rather see than Harry Potter's crack. This seems like a rather unlikely rumor.
Your Daily Blend of Entertainment News
Thank you for signing up to CinemaBlend. You will receive a verification email shortly.
There was a problem. Please refresh the page and try again.