Real-Life Inspiration For A League of Their Own's Dottie Dies At 88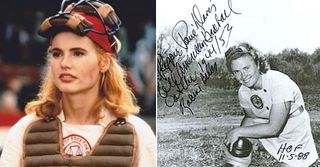 Thanks to 1992's A League of Their Own, we all learned there's no crying in baseball, but for today that rule is suspended. Have a good cry baseball fans, because Lavonne "Pepper" Paire-Davis, the inspiration for Dottie Hinson, the role played by Geena Davis, has died at 88.
When the call for new recruits threatened the continuation of Major League Baseball in World War II, women were called upon, just as they were in factories and companies nationwide. Even when the war ended and the men returned, the All-American Girls Professional Baseball League proved so popular that it lasted until 1954. And just as A League of Their Own shows, these women and their contribution to the sport of professional baseball were given a place of honor in Cooperstown's prestigious Hall of Fame.
Yahoo reports that for her part Paire-Davis, like Dottie, was a catcher and shortstop. But unlike her movie counterpart, Paire-Davis went on to play for ten seasons during which she helped her team win five championships, rather than quitting the league after just one. Paire-Davis also had no kid sister that she warred with (Sorry, Dottie's sister—I mean, Kit!), and Paire-Davis never played for the Rockford Peaches. Over the course of her baseball career, she played for the Racine Belles, Grand Rapids Chicks and Fort Wayne Daisies. In 2009, she wrote a memoir of her experiences called Dirt in the Skirt.
Though they had girlish team names and donned skirts, these women played hard, playing 120 games over four months. In 1995, Paire-Davis recounted, "We played every night of the week, doubleheaders on Sundays and holidays." Of her time in the League, this groundbreaking ballplayer said:
To commemorate Paire-Davis and her legacy in baseball and in film, take a listen to the Rockford Peaches sing their theme, and know that today it's okay to cry.
Your Daily Blend of Entertainment News
Staff writer at CinemaBlend.