Red Riding Hood Hitting Blu-Ray With An Alternate Cut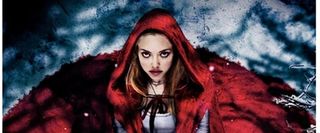 Catherine Hardwicke's Twilight-friendly retelling of Little Red Riding Hood had some good things go for it. Lush visuals. A cast including Gary Oldman and Amanda Seyfried. Werewolves. Granted, Red Riding Hood automatically lost points for including a character with Edward Cullen hair, but then again, I probably wasn't the target audience. If it was up your alley, however, you may want to put in your pre-orders, because the Blu-ray version will include an alternate cut of the movie.
Warner Home Video will release Red Riding Hood on Blu-ray ($35.99) and DVD ($28.98) on June 14th. The DVD release will include some deleted scenes, but if you're a fan looking to get your money's worth, I'd upgrade for the Blu-ray. It will include a veritable goody basket of extras, in addition to the alternate cut of the film.
Red Riding Hood Blu-ray Bonus Features
"Secrets Behind the Red Cloak" picture-in-picture commentary with director Catherine Hardwicke, Amanda Seyfried, Shiloh Fernandez, and Max Irons
Reinvention of Red Riding Hood
Red Riding Hood's Men
Making the Score
Before the Fur...Making of the CG Wolf
Casting Tapes
Rehearsals (The Dance, The Festival, The Wolf Attack)
"The Wolf" -- Music video by Fever Ray
"Just a Fragment of You" -- Music video by Anthony Gonzalez of M8
Red Riding Hood in 73 Seconds
"The Wolf Goes to a Hamlet Audition" Easter egg
Gag reel
Deleted scenes
Image 1 of 2
Your Daily Blend of Entertainment News
Thank you for signing up to CinemaBlend. You will receive a verification email shortly.
There was a problem. Please refresh the page and try again.