Remember Big Valley? No? Try The Movie Version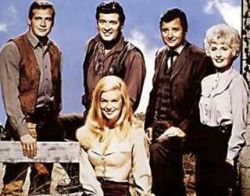 When you're making a film that's a remake of a 1960s TV show that's almost entirely forgotten, you really may as well be making something totally original. Forgive me if there are tons of fans of the 1965 ABC series The Big Valley, but I'm guessing most of the people they want coming out for the feature version will have no idea any other version existed.
THR reports that Daniel Adams will write a screenplay and direct the film based on the series, which starred Barbara Stanwyck as the matriarch of a cattle ranching family living in the San Joaquin Valley in the 1870s. Sounds like a plum role for an actress of a certain age, and maybe yet another opportunity to make Westerns hip again. No one has really succeeded in doing that, but good on 'em for giving it another shot.
Staff Writer at CinemaBlend
Your Daily Blend of Entertainment News
Thank you for signing up to CinemaBlend. You will receive a verification email shortly.
There was a problem. Please refresh the page and try again.