Restrepo Co-Director Tim Hetherington Killed On The Front Lines In Libya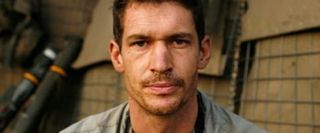 Tim Hetherington, the British photojournalist and documentarian who co-directed last year's Oscar-nominated Restrepo, has been killed in a skirmish between Gaddafi's soldiers and rebels in Misrata, Libya, according to The Associated Press. The news first broke via a now-removed Facebook post but has since been confirmed by the news agency. Also injured were two other photographers, Chris Hondros and Guy Martin; they remain in grave condition.
Hetherington's work photographing the front lines of various global conflicts for Vanity Fair and other publications is monumental, but we report his death on this movie-focused website because of Restrepo, a stunningly intimate and moving documentary about a group of soldiers in Afghanistan. Hetherington and his co-director Sebastian Junger spent a year embedded with a platoon that was part of the 173rd Airborne Brigade Combat Team in the Korengal Valley of Afghanistan, referred to as the "deadliest place on earth." The filmmakers endured gunfire and brutal conditions along with the soldiers, and in the process captured some of the most striking and harrowing war footage ever filmed.
Restrepo, which was among my favorite movies of 2010, is available now to watch on Netflix Watch Instantly. As we learn more about the circumstances of Hetherington's death and read what will likely be many accounts of his remarkable life, watch this movie to see some of his finest and most unforgettable work.
Your Daily Blend of Entertainment News
Staff Writer at CinemaBlend