Rick Santorum's EchoLight Films Releasing Movies Exclusively To Churches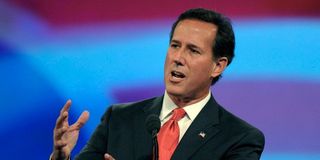 EchoLight Pictures is but one of many independent film distributors trying to get by on modestly-budgeted films aimed at a growing market. They've distinguished themselves with faith-based offerings, courtesy of former Presidential candidate Rick Santorum, and many of their films have been able to secure hundred-screen releases. That doesn't seem like much when big films usually debut on 3,000-plus screens, but for modest indie distributors, it's a whole lot. But EchoLight isn't trying to use theaters to break out: they're using churches.
Deadline reports that their plan is to release four films a year. But they'll be in churches nationwide, no longer just theaters. DVD, VOD, theatrical, we expected, but just churches? Unexpected, but it's this sort of unconventionality that Santorum says helps bring people closer to Christian faith. EchoLight CEO Jeff Sheets elaborates:
One of their larger offerings is the upcoming Hoovey. The film, based on a true story, stars Patrick Warburton and Lauren Holly and focuses on a family struggling to come to terms with their basketball star son's brain tumor. Most of EchoLight's output is similar, focusing on true-life struggles involving a testing of faith through hardships. A quick peek at EchoLight's website reveals a slate of films starring the likes of Bruce Davison, Samantha Barks, Brian Dennehey, Corbin Bersen, Megyn Price and Dean Cain. Obviously these aren't mainstream superstars, but in the small towns where attending church is just as popular an activity as going to the mall, they're just as big as Tom Cruise. The studio's most recent high profile release was A Christmas Candle, which featured Barks, John Hannah, and singing sensation Susan Boyle. The film collected a strong $2.3 million last fall and will earn a re-release in sponsored churches.
This year has seen a sudden upswing in Christian-based entertainments. Obviously Noah was a major attention-getter, garnering $246 million in global grosses. That was a mega-budgeted studio film: Son Of God was a re-edited miniseries that already aired on television. It has grossed $58 million. And the biggest surprise is $2 million indie God's Not Dead. The Freestyle Releasing film has already generated a spectacular $40 million, building an audience through strong word of mouth despite the biggest names in the cast being Kevin Sorbo and Dean Cain. This weekend brings Heaven Is For Real, establishing a marketplace practically saturated with options for Christian filmgoers.
Does this effort reek of gimmickry? These are films designed, from the bottom-up, to preach (literally) to the choir, to reaffirm religious values and to re-establish faith. Except that religions already have churches for that, megachurches in some cases. Placing these films in churches gives power to their messages of faith. But it also could degrade the church (and the movies) in a way straight-to-DVD never did.
If you are a believer, you know that no lower-budget film directed by Corbin Bernsen is going to praise the word of the Lord quite as well as a priest. And if you are a non-believer, seeing the film in the church is basically like screening a Zack Snyder movie at Comic Con... if you have any dissenting opinion, you might have to fear for your life. It's a new model of distribution for films trying to reach a new audience. We'll see if it succeeds.
Your Daily Blend of Entertainment News