Ricky Gervais Confirms The Obvious: Robert Downey Jr. Was In On His Golden Globes Joke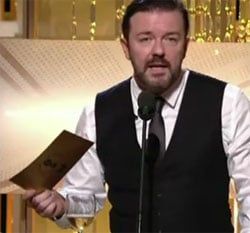 After the Golden Globes this past Sunday, the media quickly became a frenzy of reports from pundits talking about how pissed off all the big celebrities there were at Ricky Gervais. Most frequently quoted as evidence of their displeasure with Ricky's ribbing were the on-stage responses of people like Robert Downey Jr. or the duo of Tim Allen and Tom Hanks. But here's the truth about what happened: It isn't Hollywood's celebrities who don't have a sense of humor, it's the media.
Anyone who watched the awards with even half a funny bone knew that Robert Downey Jr.'s response to Ricky in which he stepped up to the mic and said "Aside from the fact that it's been hugely mean-spirited with mildly sinister undertones, I'd say the vibe of the show has been pretty good so far, wouldn't you?", was as much a joke as Gervais's intro in which he referred to Robert Downey as a porno actor. Newsflash: Ricky Gervais knows that Iron Man isn't a porn film and Robert Downey Jr., of all people, can take a good joke. Downey's response was obviously a pre-prepared part of the gag as was the perfectly timed riffing of Tom Hanks and Tim Allen. Yet somehow, the media (this media for instance) has been reporting their obvious jokes as if they were serious, angry attacks on Gervais.
This morning Ricky took to his blog to clear the whole thing up, even though it shouldn't have needed clearing up. Of the semi-retarded reporting being done by publications like the Hollywood reporter, Gervais says what we already knew: it's all garbage. Here's his explanation:
He also explains why he vanished from the stage for such a long period during the middle of the show. No, it wasn't because the show's producers refused to let him out on stage. It's because he picked his spots.
It remains to be seen, however, whether the Hollywood Foreign Press was happy enough with his performance to invite him back. The statement they released yesterday was a half-hearted show of support in which they expressed satisfaction with the show while saying they thought he went too far. But the notion that any of Ricky's targets on stage weren't in on the joke with him, has always been utterly ridiculous. Here's a few clips from the show to illustrate the point.
Ricky Gervais Introduces Tom Hanks & Tim Allen
Ricky Gervais Introduces Robert Downey Jr.
Your Daily Blend of Entertainment News