Ricky Gervais Is Making A Movie For Netflix, Check Out The Killer Cast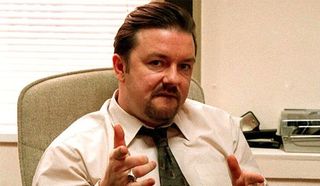 Once again, Ricky Gervais is teaming up with Netflix, for a movie this time instead of an episodic offering, like his last outing, the comedy Derek. This project with the streaming service giant is titled Special Correspondents, and the comedy has put together an incredible cast, which just unveiled its first cast photo.
A satirical comedy about a struggling radio journalist from New York who lives a spoiled, over-the-top lifestyle and may lose his job, the story follows him as he fakes a reports from the front lines while hiding out a Manhattan eatery. Joining Gervais are Eric Bana, who plays the aforementioned journalist, Vera Farmiga, Kelly Macdonald, Kevin Pollack, America Ferrara, Raul Castillo, and Benjamin Bratt.
In addition to his on screen acting duties, Gervais also wrote and is directing Special Correspondents for Netflix. The picture is currently filming in Toronto, where they have been in the process of principal photography since last month, and production is slated to wrap up in New York City next month, concluding on July 3. This is an impressive array of talent, and only goes further towards cementing Netflix's status as an outlet producing interesting, original content that attracts top tier actors.
Eric Bana recently fronted the horror joint Deliver Us From Evil, as well as Peter Berg's Navy SEALs actioner Lone Survivor, but played the Romulan villain in Star Trek and has even been the Incredible Hulk. Vera Farmiga garnered an Oscar nomination for her role opposite George Clooney in Jason Reitman's Up in the Air, and has appeared in everything from The Conjuring to The Departed, and currently stars in A&E's Bates Motel. Kelly Macdonald's highest profile recent role was on HBO's prohibition era gangster drama Boardwalk Empire, where she played the female lead, Margaret Schroeder, opposite Steve Buscemi. But if you're of a certain generation, you first saw her in Trainspotting.
Beginning as a standup comedian, Kevin Pollack has won awards and acclaim for his varied roles in movies like The Usual Suspects, Casino, and many more. America Ferrara first came to prominence as the star of Ugly Betty, but has appeared in tons of other films and TV projects, and even lent her voice to the How To Train Your Dragon movies. The Texas-born Raul Castillo has an extensive resume, but is most known for his role as Richie on HBO's comedic drama Looking. And Benjamin Bratt is, of course, an industry vet who has popped up in everything from Law & Order to 24 and Modern Family. Hell, he even dated Julia Roberts.
Special Correspondents is deep into production as we speak and is scheduled to debut on Netflix sometime in 2016. And if this cast is any indication, this is probably going to be something rather memorable to behold.
Your Daily Blend of Entertainment News