Rob Schneider In Chuck And Larry, Out Of Animal 2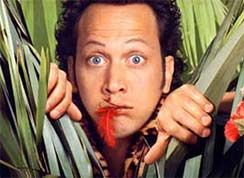 Rob Schneider just can't help himself. Where Adam Sandler goes, he goes. He'll even follow Adam into marriage… to another man. I hope he doesn't get jealous.
Cinema Blend has just found out that Schneider will show up in his usual, obligatory cameo role for Sandler's upcoming gay marriage comedy I Now Pronounce You Chuck and Larry. He'll play an Asian who marries Adam Sandler and Kevin James. Hopefully, his Asian accent will be every bit as racially insensitive as the Hawaiian one he attempted in 50 First Dates.
Meanwhile, our sources tell us that Rob has just turned down a sequel to his 2001 movie The Animal. That's right, Rob Schneider actually turned a movie down. Imagine how bad that script must be.
But, the film will go on without him. A sequel to The Animal is still happening, they're just going to focus it on some other character. Maybe grab some minor character from the first film to center it around as they've done with Evan Almighty. I'm sure 'Survivor' Colleen Haskell isn't busy.
Your Daily Blend of Entertainment News