Robert Downey Jr. Thinks These 3 Marvel Heroes Deserve Their Own Movies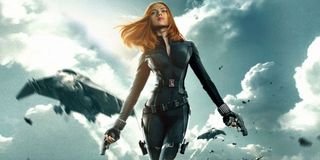 Robert Downey Jr. is joining the fight for a Black Widow movie. And she's not the only Avenger he thinks deserves a shot in a solo adventure.
USA Today (opens in new tab) spoke with Robert Downey Jr. as he readies to promote The Judge at the Toronto International Film Festival. With buzz building on a (still unannounced) Black Widow movie, the Iron Man and Avengers star was asked what he thought about a potential Scarlett Johansson-fronted spin-off. First, he said with a laugh, "Doesn't Scarlett deserve a break?" But then Downey went deep, noting that heroines have played a big role in Marvel's Cinematic Universe, from Zoe Saldana's Gamora in Guardians of the Galaxy to Gwentyh Paltrow's Pepper Potts of Iron Man 1-3, who even stepped up to superhero status in her last appearance. But between all of these super heroines, Downey is backing Black Widow for a solo adventure:
Scarlett Johansson's been pushing for a Black Widow movie for a while now, but Marvel has been slow to respond. Still, that hasn't stopped others from promoting the could-be pic.
Recently celebrated actress Jessica Chastain vented her own frustration over this matter to The Wrap , saying, "Where is the Scarlett Johansson superhero movie? I don't understand it, why is it taking so long for this?" And Black Widow has a big fan in Game of Thrones helmer Neil Marshall, who has already volunteered to direct her solo adventure. Plus Johansson proved her box office drawing power with Lucy, an action outing that beat out the Rock-driven Hercules for the number one spot opening weekend, and has gone on to earn $270 million worldwide in just 5 ½ weeks.
Your move, Marvel.
Black Widow is not the only Avenger that Robert Downey Jr. feels is deserving of a spin-off. Loyal to his onscreen brothers in arms, he said:
Here's hoping he's right, and we'll get word on more solo Avengers projects soon.
Staff writer at CinemaBlend.
Your Daily Blend of Entertainment News
Thank you for signing up to CinemaBlend. You will receive a verification email shortly.
There was a problem. Please refresh the page and try again.